2021-10-21 10:30
The centenary of the birth of Czeslaw Slania, stamp engraver to the Royal Court, is being marked with a stamp
Czeslaw Slania was globally unique as a stamp engraver. No one else in the world of stamps has been so prolific. On 22 October, an engraved stamp is being released in minisheet format in recognition of his work.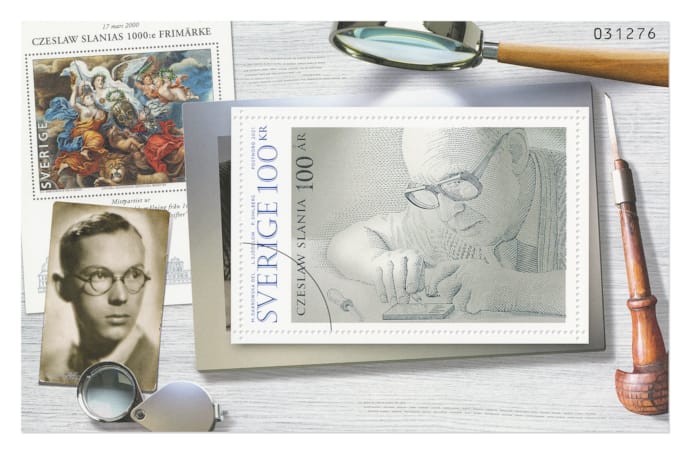 Czeslaw Slania started working as an engraver for Swedish Posten in 1959. His first Swedish stamps were issued in 1960. They were portraits of writer Gustaf Fröding and artist Anders Zorn. During his career, Slania created a large number of stamp and banknote engravings for countries throughout the world. What distinguished him was his use of a 500-year-old technique to convert other people's work into new masterpieces.
"We are proud to be able to honor this superstar in the engraving firmament with a stamp that combines the engraver's time-honored craftwork with modern printing techniques," says Stina Olofsdotter, Head of PostNord Stamps.
Slania's thousandth stamp was also his biggest. Svenska konungars berömliga bedrifter (The Glorious Exploits of the Swedish Royal Family) was printed at Posten's stamp printing works in Kista. Measuring 60 by 81 millimeters, it became the biggest stamp in the world using the engraving technique and so entered the Guinness Book of Records in 2000. Several of Slania's Swedish stamps have won prizes. Balett (Ballet) was designated the world's most beautiful stamp in 1979, and in 1984 the stamp featuring Dalarna fiddle-player Hins-Anders based on an original by Anders Zorn was awarded the Robert Stoltz Trophy for the most beautiful stamp on the theme of music.
The commemorative stamp, which design is based on a photo by Per Sihlberg and interpreted by Lars Sjööblom has a denomination of SEK 100 and can be purchased at postnord.se from 22 October onwards. The special edition is numbered and features on 100,000 minisheets.
Last Updated: 2021-10-21 10:30