The Stamp Year 2019
Welcome to a new stamp year. We hope that the themes and motifs we have planned will make it even more fun for you to send your greetings and letters and to add to your collection of attractive designs.
Our new stamp program includes an exciting anniversary, motifs from the animal and plant kingdoms, Swedish fashion, and cheery, celebratory stamps for all types of invitations.

Making things by hand has become popular again, and we think a stamp with a handicraft motif is particularly well suited to a handwritten letter or greetings card. Many people have asked about the Pride stamp that was issued in 2016, and so we are bringing it back in the coming year.
Stamp Year 2019 starts with colorful tulips and finishes with Christmas tree decorations for your Christmas greetings.
Complete stamp issues are available in the Shop.
Policy for dealing with stamp images
The following applies to all publication unless otherwise agreed or approved:
The stamp shall be portrayed in its entirety and with cancellation mark.
The stamp image may not be altered. Sweden, denomination and perforation shall be included.
The images can be freely used in editorial texts about the stamps. All other use requires permission.
Contact: PNF-SE.Verksamhetsstod@postnord.com
Download images
January 10, 2019
Tulips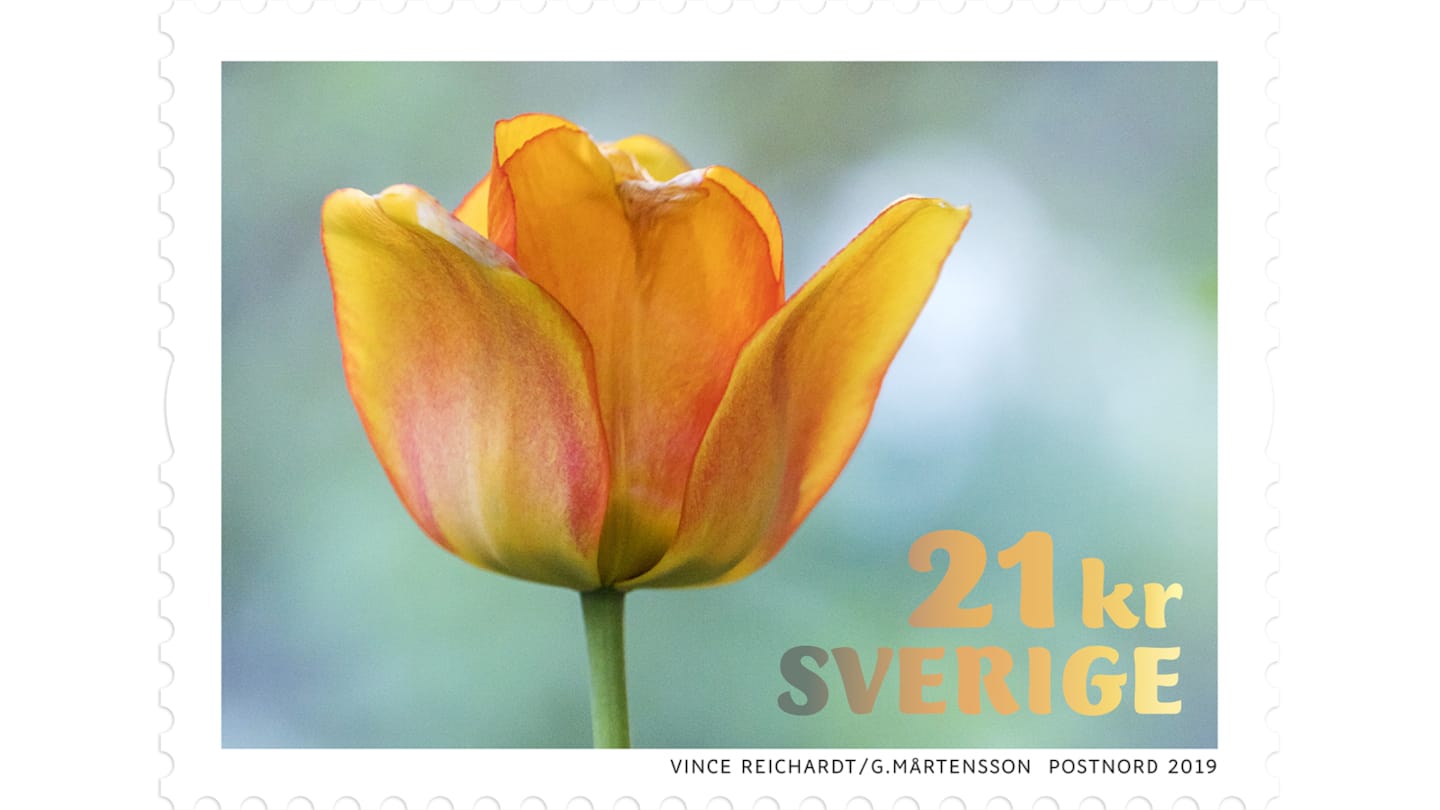 Tulips for all occasions
Tulips are our most popular cut flower, and no country buys more tulips per head than Sweden. Their fresh green leaves and great variety of colors and shapes make them well suited both in bouquets and as stamp motifs. So it's now easier than ever for you to send someone a flower, simply by franking your greeting with a tulip.
Booklet, 10 stamps, 5 motifs, Domestic letters.
Coil stamps, 100/coil, 1 motif, SEK 21.
Coil stamps, 100/coil, 1 motif, SEK 5.
Photography: Vince Reichardt
Design: Gustav Mårtensson
Colors: Four-color offset
Paper: Self-adhesive
Format booklet stamps: 26.5 mm x 36.6 mm
Format coil stamps SEK 5: 26.5 x 26.25 mm
Format coil stamps SEK 21: 36.6 mm x 26.5 mm
The power of handicrafts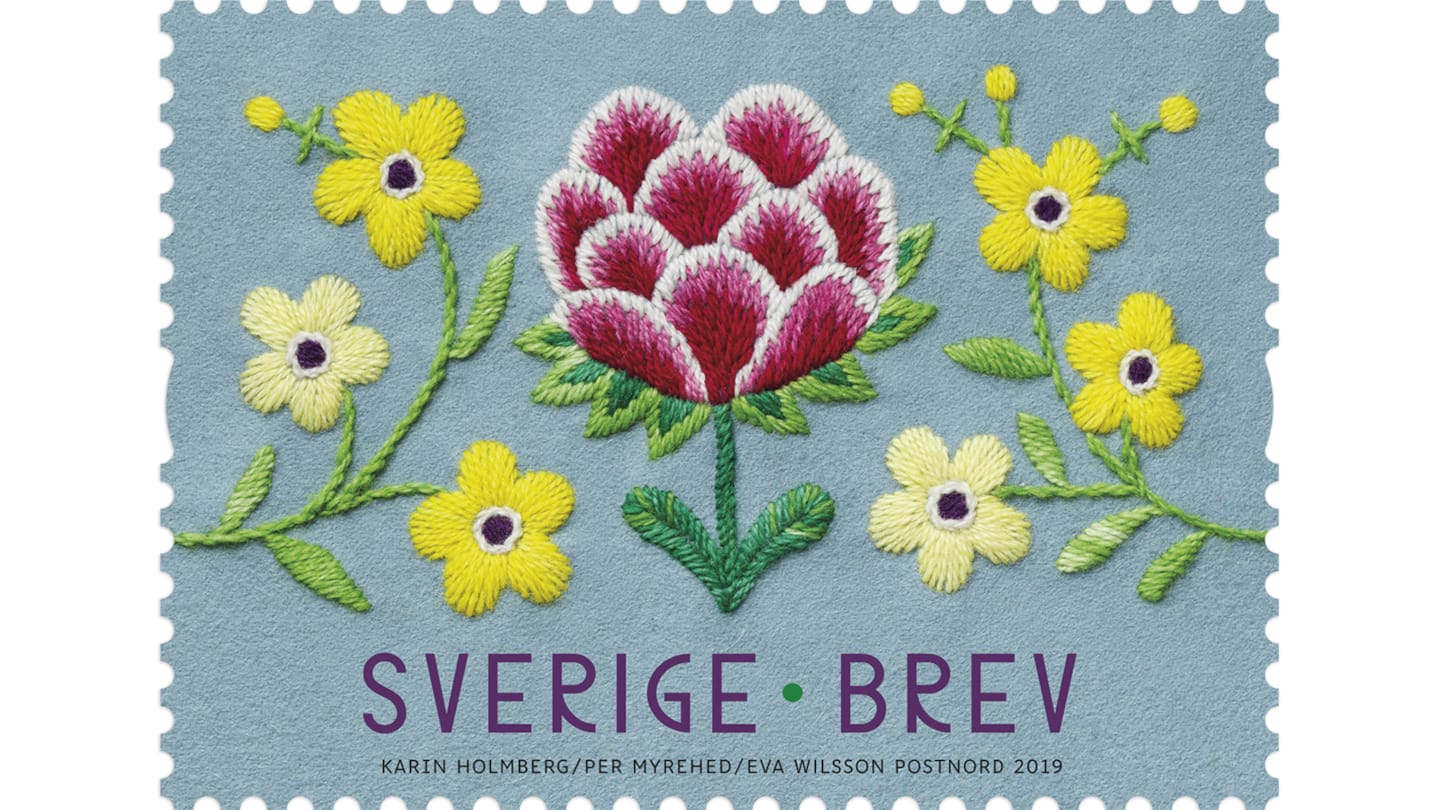 Inspired by tradition
Handicrafts have become popular again, and many people are feeling the need to make something with their own hands – in order to destress, enjoy time with other people and make the most of expertise and material but also to have a clear voice in society. The stamps, which can be used for postage worldwide and for letters within Sweden, show something of the creative energy and inventiveness of textiles. Choosing paper, an envelope and a stamp and writing a letter by hand is an act of personal creativity that is sure to be appreciated by the recipient.
Booklet, 5 stamps, 5 motifs, SEK 21.
Coil stamps, 100/coil, 1 motif, Domestic letters.
Textiles: Emma Ihl, Maria Yvell, Anneli Lindberg, Monika Aldehag, Lotta Sjöberg, Karin Holmberg
Background to souvenir sheet: "Inspired by tradition" Eva Eriksson
Photography: Per Myrehed
Design: Eva Wilsson
Colors: Five-color (plus one additional colorfor Prioritaire in the booklet) offset
Paper: Booklets and coils – self-adhesive. Souvenir sheet – gummed
Format booklet stamps: 49.5 x 26.5 mm
Format coil stamps: 36.6 mm x 26.5 mm
Format stamp in souvenir sheet: 50 x 30 mm
Format souvenir sheet: 157 x 130 mm
King Carl Gustaf and Queen Silvia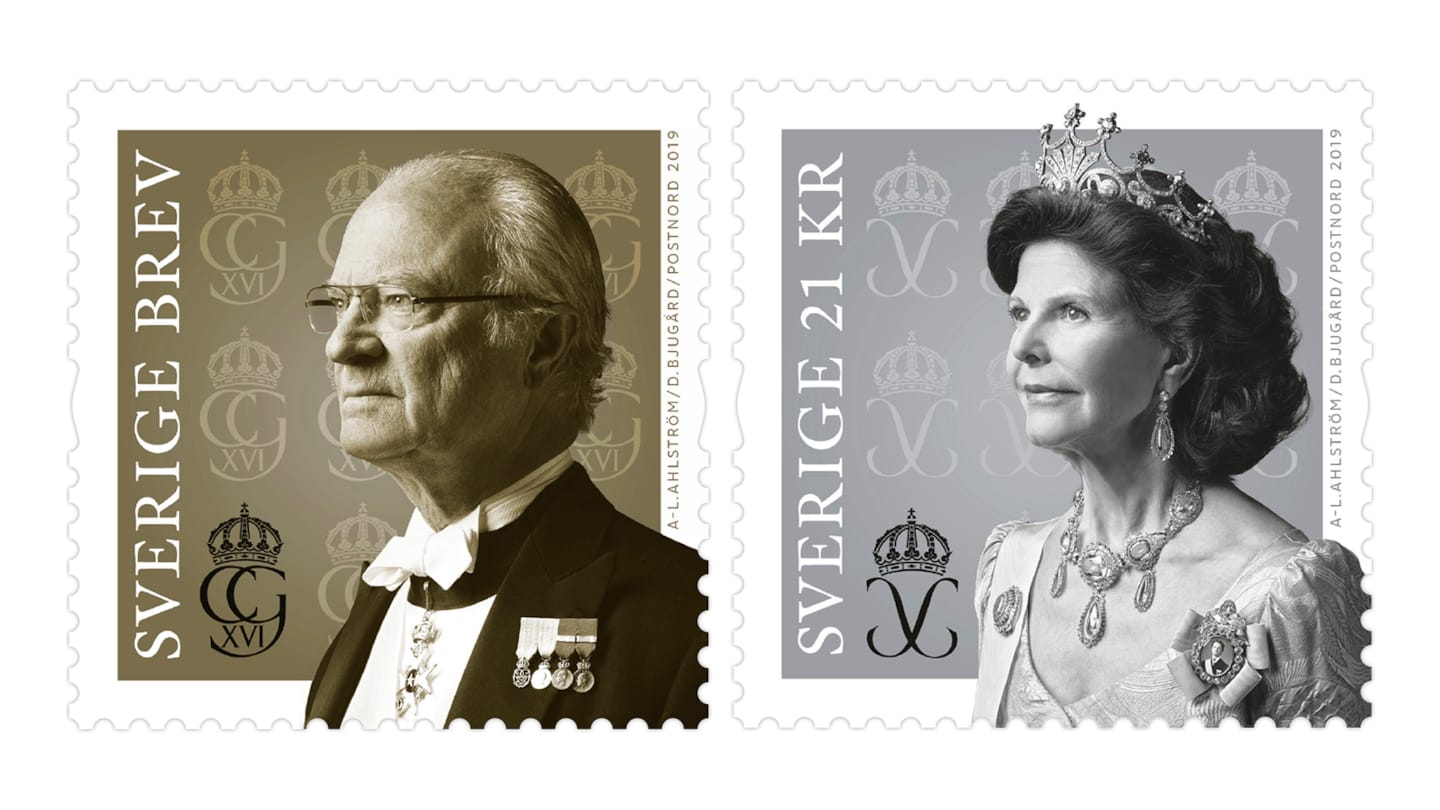 Royal pride
It's traditional for our range to include a portrait of the King on stamps for letters within Sweden and the Queen on international stamps: Carl XVI Gustaf since 1974 and Queen Silvia since 1981.
We're now introducing new color combinations for the stylish 2015 portraits.
Coil stamps, 100/coil, 1 motif, Domestic letters.
Coil stamps, 100/coil, 1 motif, SEK 21.
Photography: Anna-Lena Ahlström
Design: Daniel Bjugård
Colors: Four-color offset
Paper: Self-adhesive
Format coil stamps: 26.5 x 26.25 mm
May 9
#myinvitation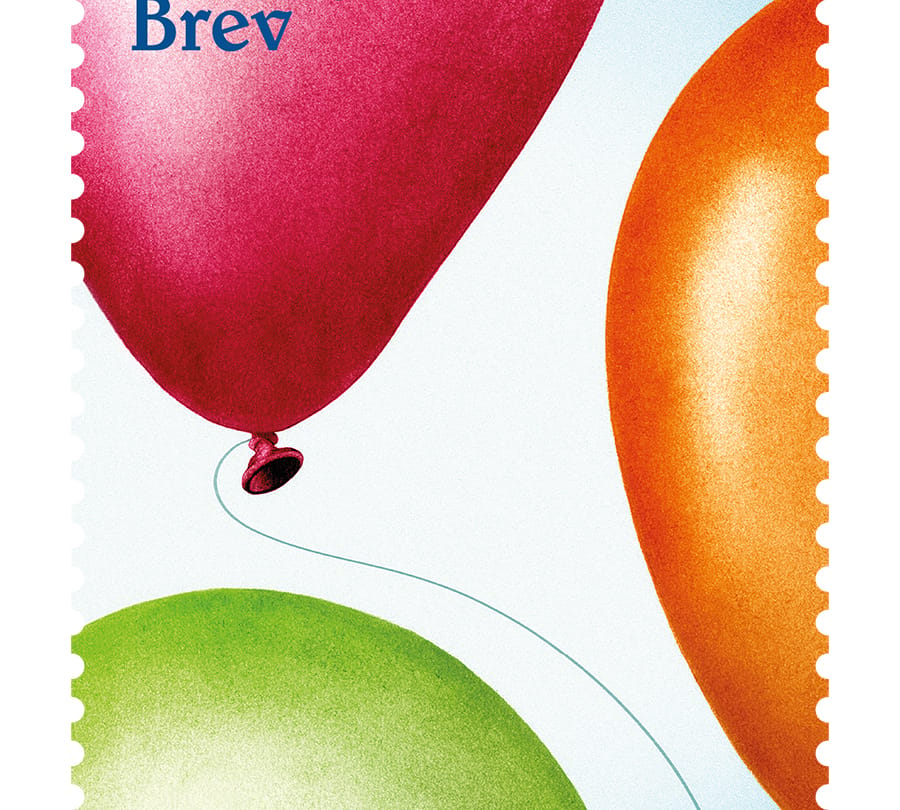 Invitations and congratulations are a big part of our private mail, and we think these stamps fit the bill perfectly. Colorful balloons, cakes and parcels are suitable for many occasions, and we have now brought back a special motif just for weddings.There is also a more tranquil motif that is good for those times when you want to express your condolences.
Coil stamps, 100/coil, 1 motif, Domestic letters.
Coil stamps, 100/coil, 1 motif, Domestic letters.
Booklet, 10 stamps, 5 motifs, Domestic letters.
50th anniversary of the moon landning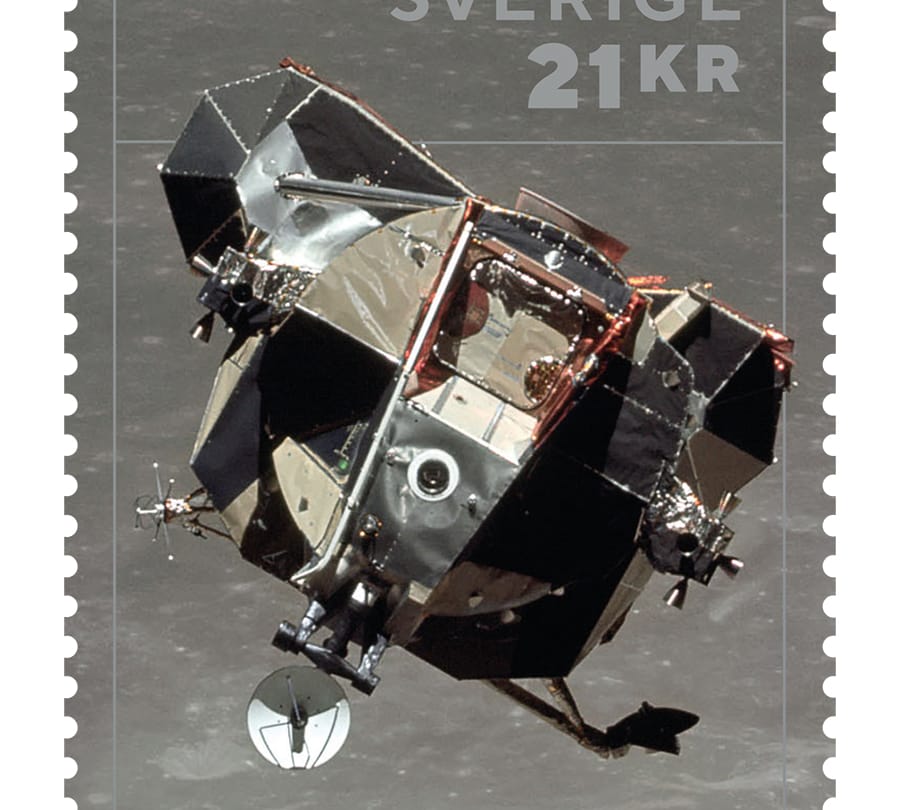 Hasselblad makes history
When Apollo 11 landed in 1969 and the first ever humans set foot on the surface of the moon, it was a historic event. Two of the three stamp motifs on the minisheet come from photographs taken with a Hasselblad camera. A Hasselblad camera was used for all the moon landings between 1969 and 1972, capturing images of the moon – and also the earth – as we had never seen them before.
Minisheet, 3 stamps, 3 motifs.
Europa – national birds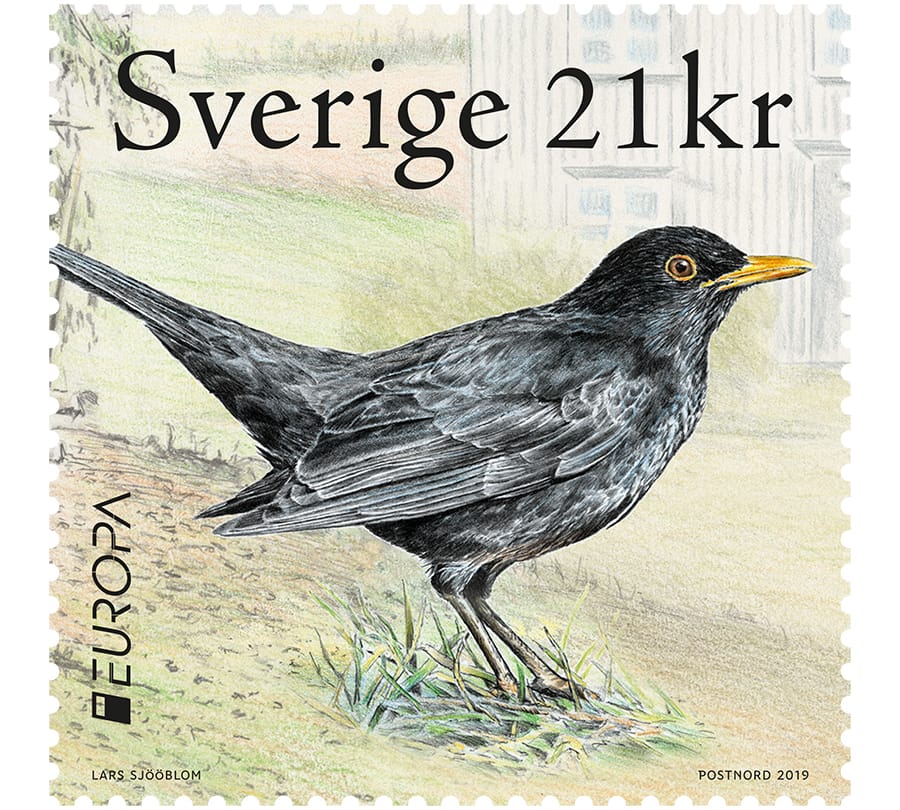 Blackbird
Twice voted our national bird, the blackbird remains our unchallenged favorite. Perhaps part of its attraction is its beautiful, slightly melancholic song, and the fact that it can be found everywhere, often close to where people are. Blackbirds nest in urban areas, in the countryside and in forests and can be found all across Sweden, except in the mountains.
Minisheet, 2 stamps, 2 motifs, SEK 21.
August 22
Swedish fashion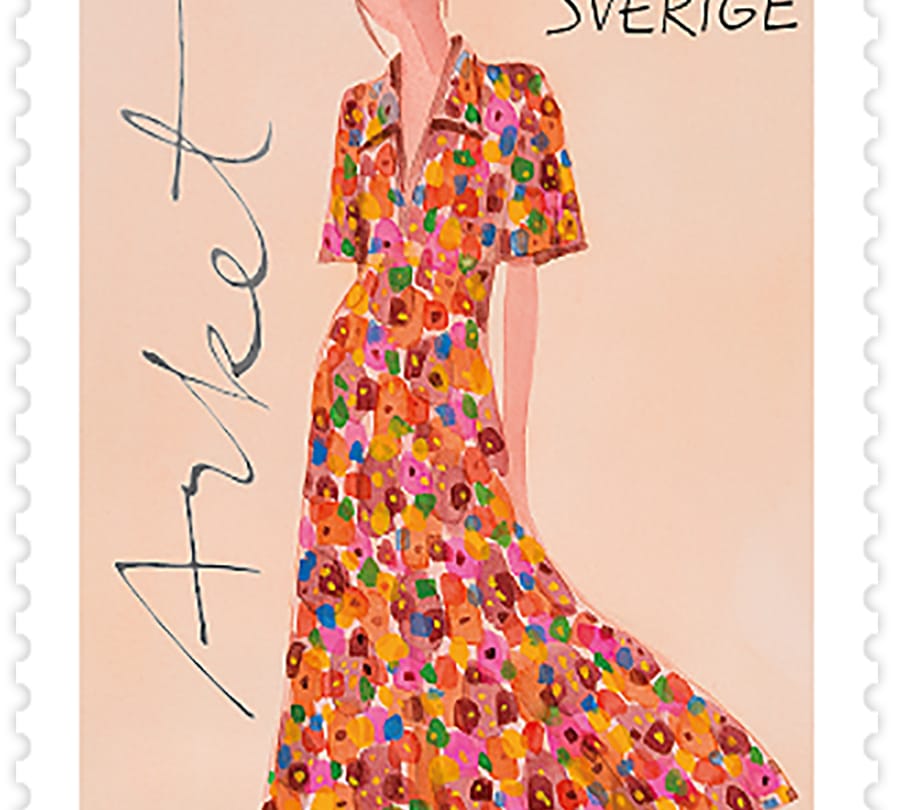 Everyday style
Swedish fashion has achieved both national and international success. About 70 procent of the fashion industry's turnover relates to exports. Several brands go in for a simple, everyday Scandinavian look, with comfortable, easy-to-wear clothes that suit most people, made in carefully chosen fabric and with attention to detail. Artist Mats Gustafson has given us his interpretation of clothing items from several Swedish fashion brands.
Booklet, 10 stamps, 5 motifs, Domestic letters.
November 7
Station buildings
During the winter we do a lot of travelling, not just abroad but also within Sweden. We might go on a skiing holiday or visit family over the Christmas period. Stations are places where we meet other people or take our leave – places of arrival and of departure.
Booklet, 10 stamps, 5 motifs, Domestic letters.
Christmas – Christmas letters
The tradition of bringing a fir tree into the house and decorating it for Christmas is one we've imported from Germany. The cold, dark days of winter are a good time for creative activities and spending time together, perhaps decorating our tree, either with ornaments we've bought or things we've made ourselves. Christmas is also about sending greetings to friends and family, a chance to get back in touch or stay connected, simply by means of a Christmas card.
Booklet, 10 stamps, 10 motifs, Christmas letters.