The Stamp Year 2017
Welcome to yet another Stamp Year, and to new motives that inspire both to writing and collecting.
Stamp motifs have always offered a window into contemporary Sweden and it is therefore particularly fun that several of the new motifs come from the Swedish people themselves under the hashtag #mittfrimärke. We strive to have as broad and in-demand a selection as possible for our motifs, themes and denominations. This year we are highlighting nostalgia, art and nature – a mix that will have something for all tastes and needs. A new stamp for heavier letters will be introduced later in the fall to meet new needs in the growing area of e-commerce.
January 12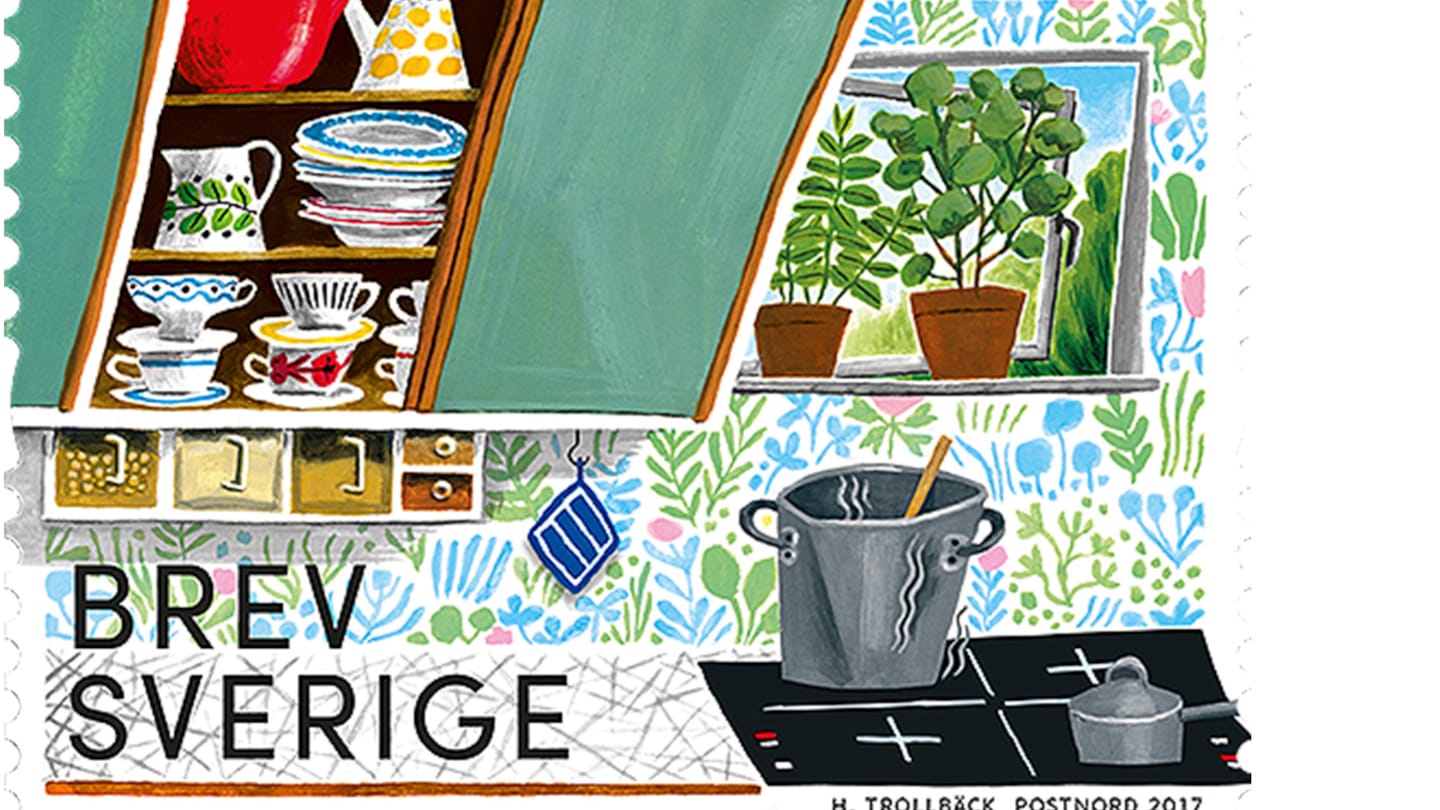 Retro
Booklet: 10 stamps. 5 motifs. Domestic letters.
Coil: 100/coil. 1motif. SEK 19.50.
Is handwritten retro?
Retro refers to the return to an earlier style or older products that become popular again. This is exactly what these stamps do – every motif mixes old with new. Today we send many greetings via email or social media, but most people still appreciate a handwritten letter the most. It might even feel a little retro with a handwritten letter today, even though personal letters have always been appreciated.
March 16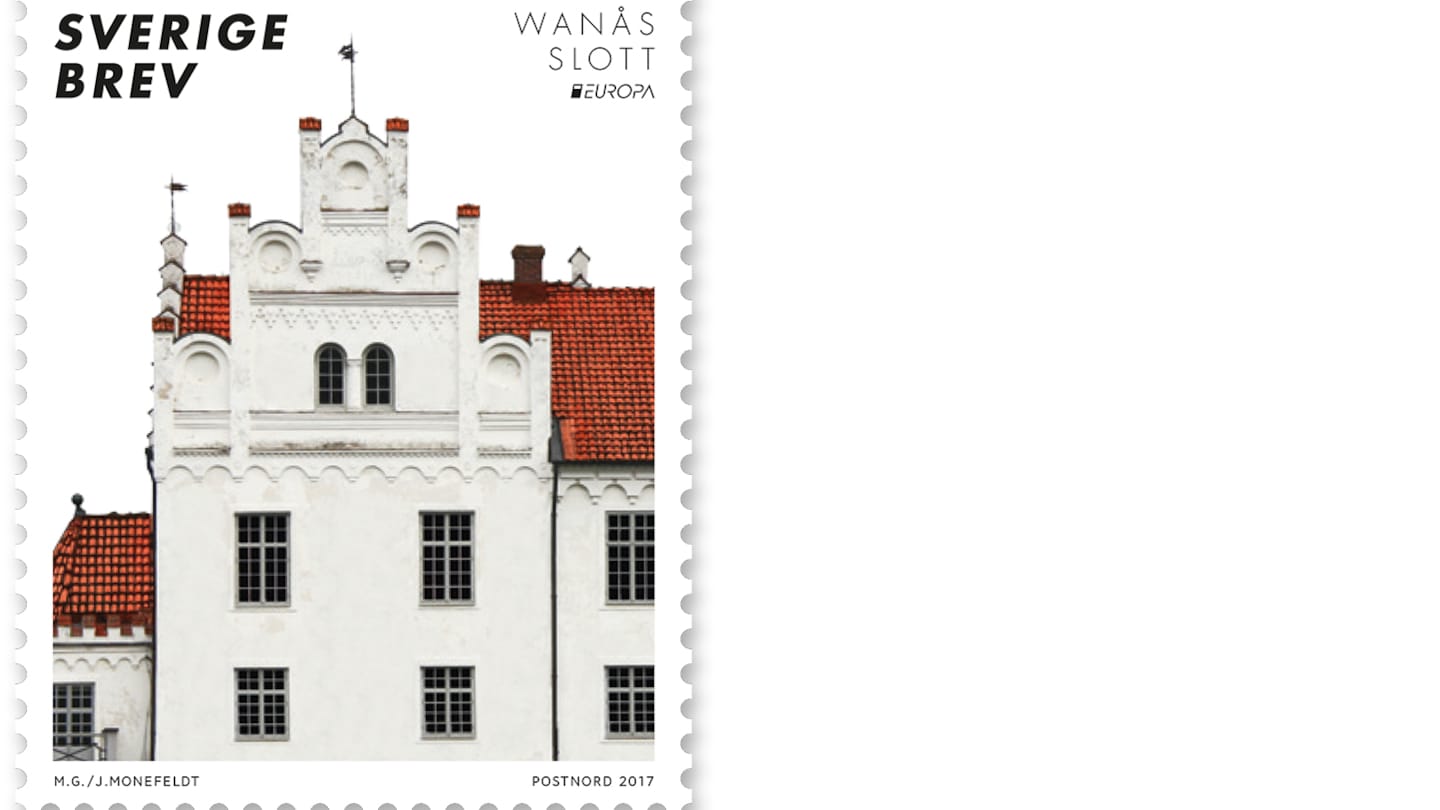 Europa – Castles
Minisheet: 2 stamps. 2 motifs. Domestic letters.
Wanås Castle on a minisheet
This year the members of PostEurop are issuing Europa stamps with a castles theme. The motifs of the Swedish stamps revolve around Wanås Castle in Skåne and its world-famous sculpture park. The works of art depicted on the minisheet are I Will Stop Loving You*, Malin Holmberg's painted tree trunks and the ground between them, and Double Dribble**, Anne Thulin's large rubber balls up in the crests of some of the park's trees.
* © Malin Holmberg 2010/image copyright 2017
** © Anne Thulin 2010/image copyright 2017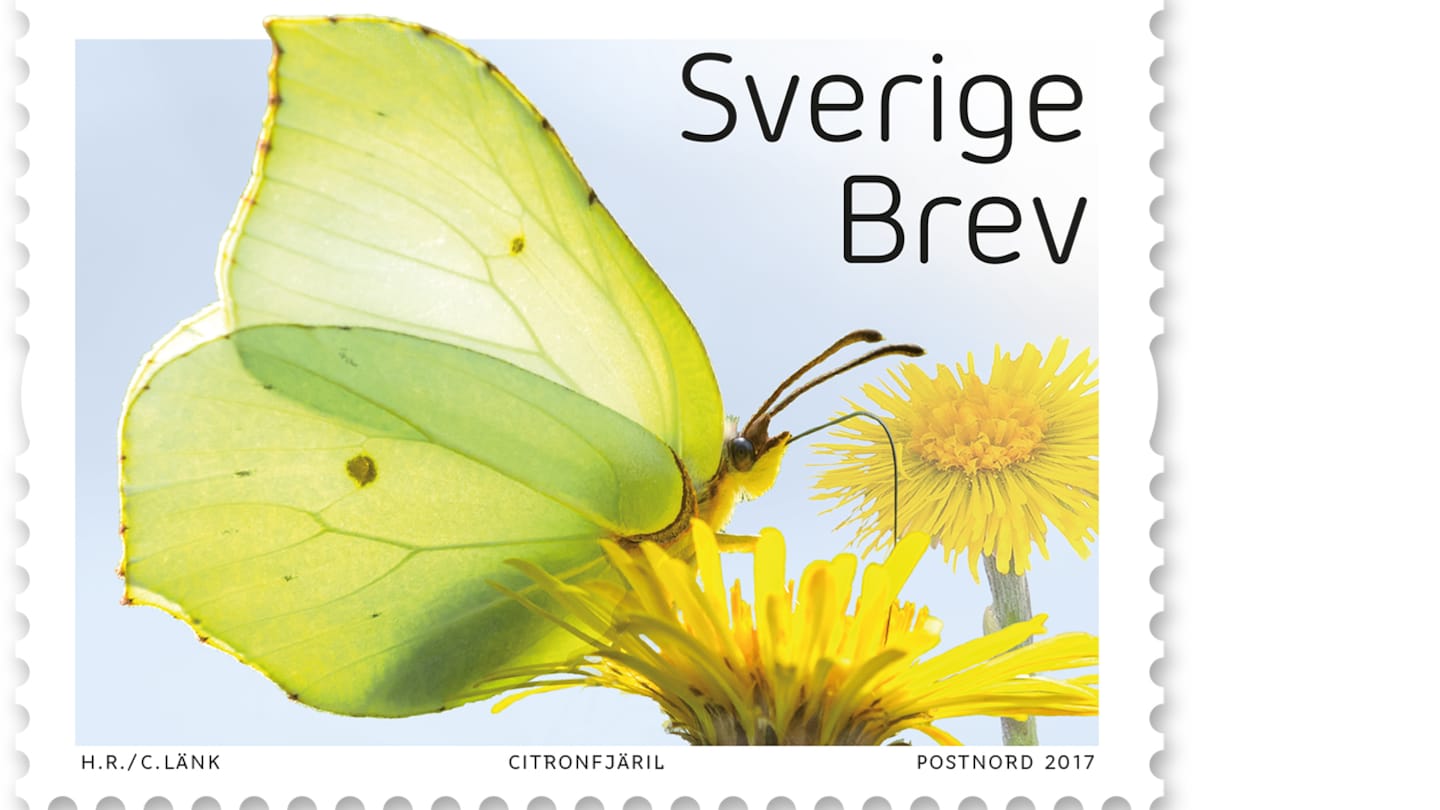 Butterflies
Booklet: 10 stamps. 5 motifs. Domestic letters.
Coil: 100/coil. 1 motif. Domestic letters
Colorful wings for your greetings
When people see their first butterfly, they know that spring has truly arrived and they can start dreaming about summer. Butterflies are a popular theme on stamps, and we have issued stamps with butterfly motifs several times before. This is not strange - colorful wings are the perfect accessory for our spring and summer greetings. Did you know that you can go in to postnord.se and submit your own suggestions for stamp motifs?
April 1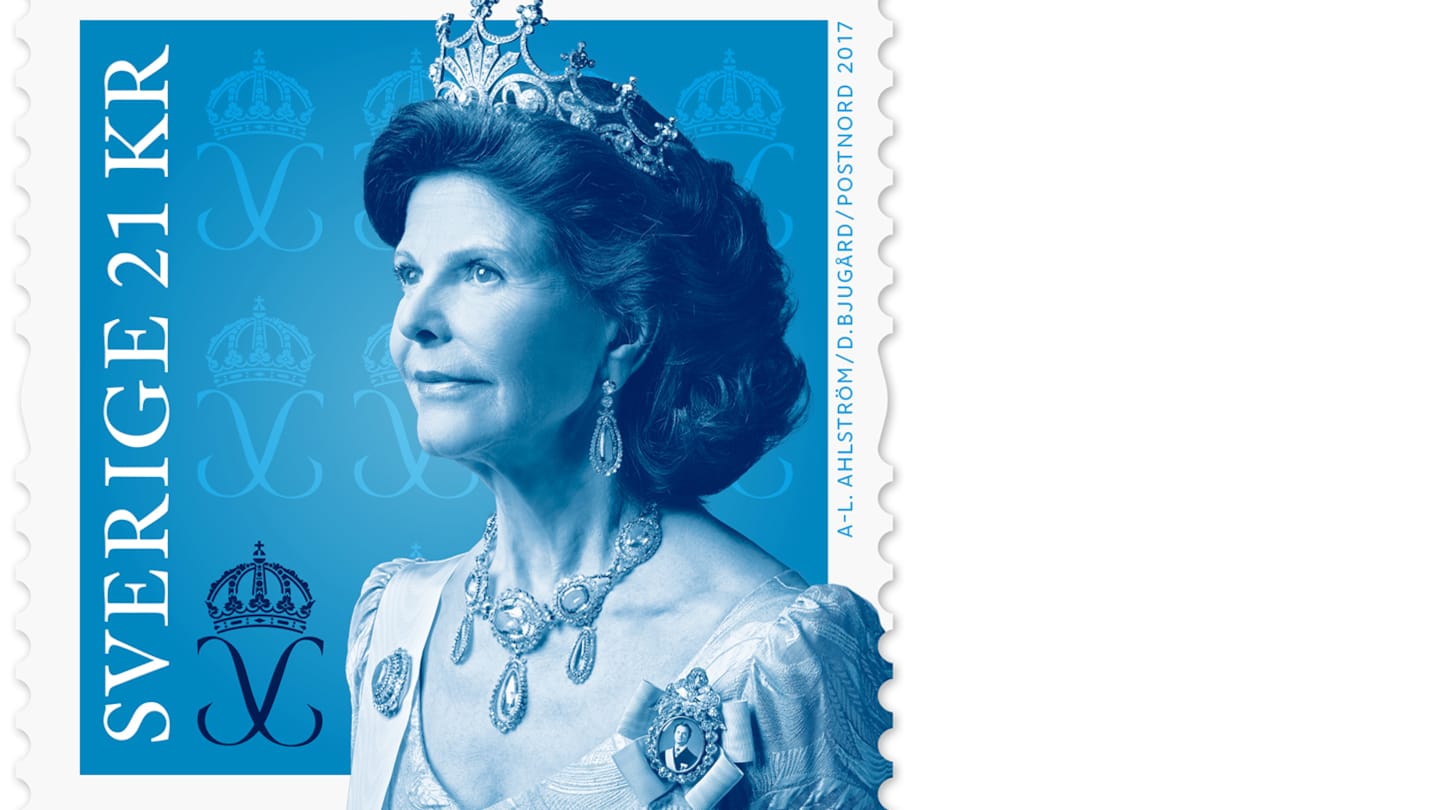 Queen Silvia
Coil: 100/coil. 1 motif. SEK 21.
The queen in a new color
Queen Silvia's portrait has graced stamps with denominations for international greetings and letters since 1981. Since the denomination for international letters was changed as of January 1, 2017, the Queen Silvia stamp is being re-issued with a new denomination and color. The motif is the same as the stamps issued in 2015 and 2016; a combination of modern expression and the classic portrait design for royalty
June 1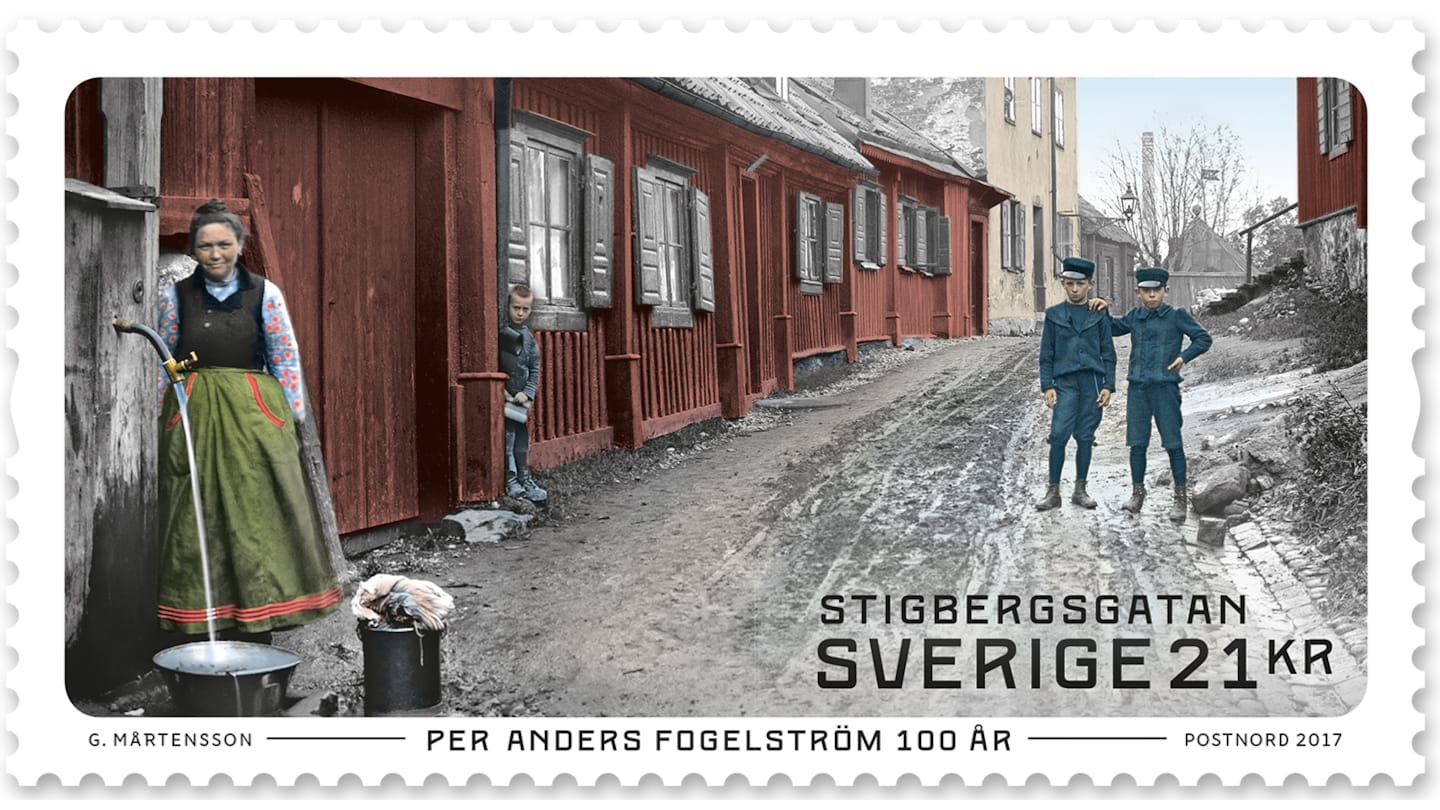 Per Anders Fogelström 100 Years
Booklet: 5 stamps. 5 motifs. SEK 21.
Mina drömmars stad
In conjunction with the 100th anniversary of author Per Anders Fogelström's birth, we are issuing five stamps depicting Stockholm motifs from the settings of his books. These books depict life among Stockholm's workers and the city's urbanization over a period of 100 years, up until the 1960s. It also simultaneously expresses peoples' constant yearning for a better life.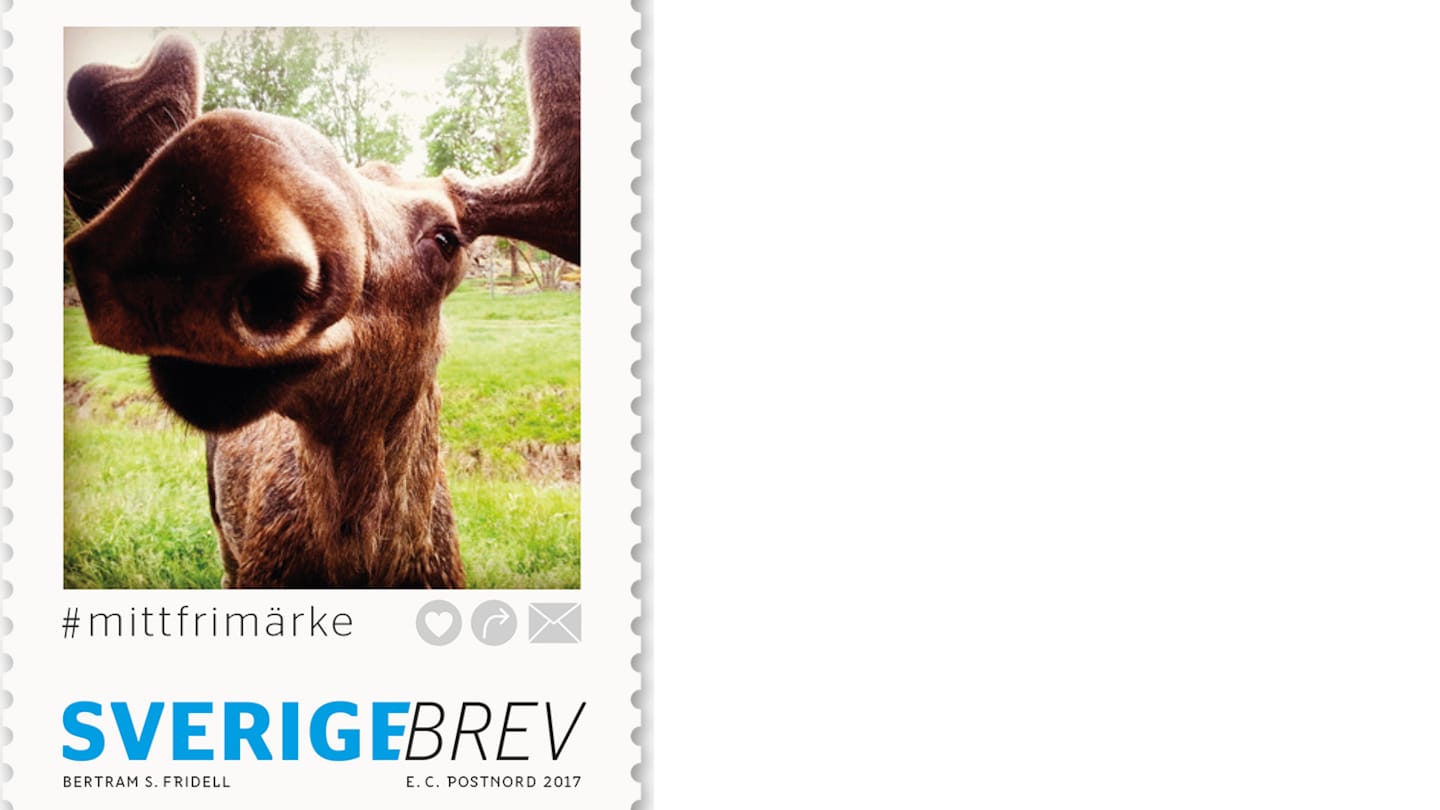 #mittfrimärke
Booklet: 10 stamps. 5 motifs. Domestic letters.
Coil: 100/coil. 2 motifs. Domestic letters.
Instagram pictures become stamps
Our Instagram competition #mittfrimärke has allowed the people of Sweden to compete for the first time to get their Instagram pictures on a stamp. We received more than 20,200 images during the competition! Twenty finalists were selected, and from these a public vote named three winners and PostNord's Stamp Advisory Committee named another four. The images from these seven winners were used for a booklet with five motifs and a coil with two motifs.
August 24
Lars Lerin
Booklet: 10 stamps. 5 motifs. Domestic letters
Lars Lerin's watercolors
Lars Lerin is considered to be not only one of the Nordic region's leading painters in watercolor but also one of the best in the world. He has also published more than 50 of his own books with text and images. He is known for his extreme talent and productivity. His permanent art hall is located in the renovated Sandgrund restaurant in Karlstad. Five stamps with motifs chosen in close cooperation with the artist are now being issued.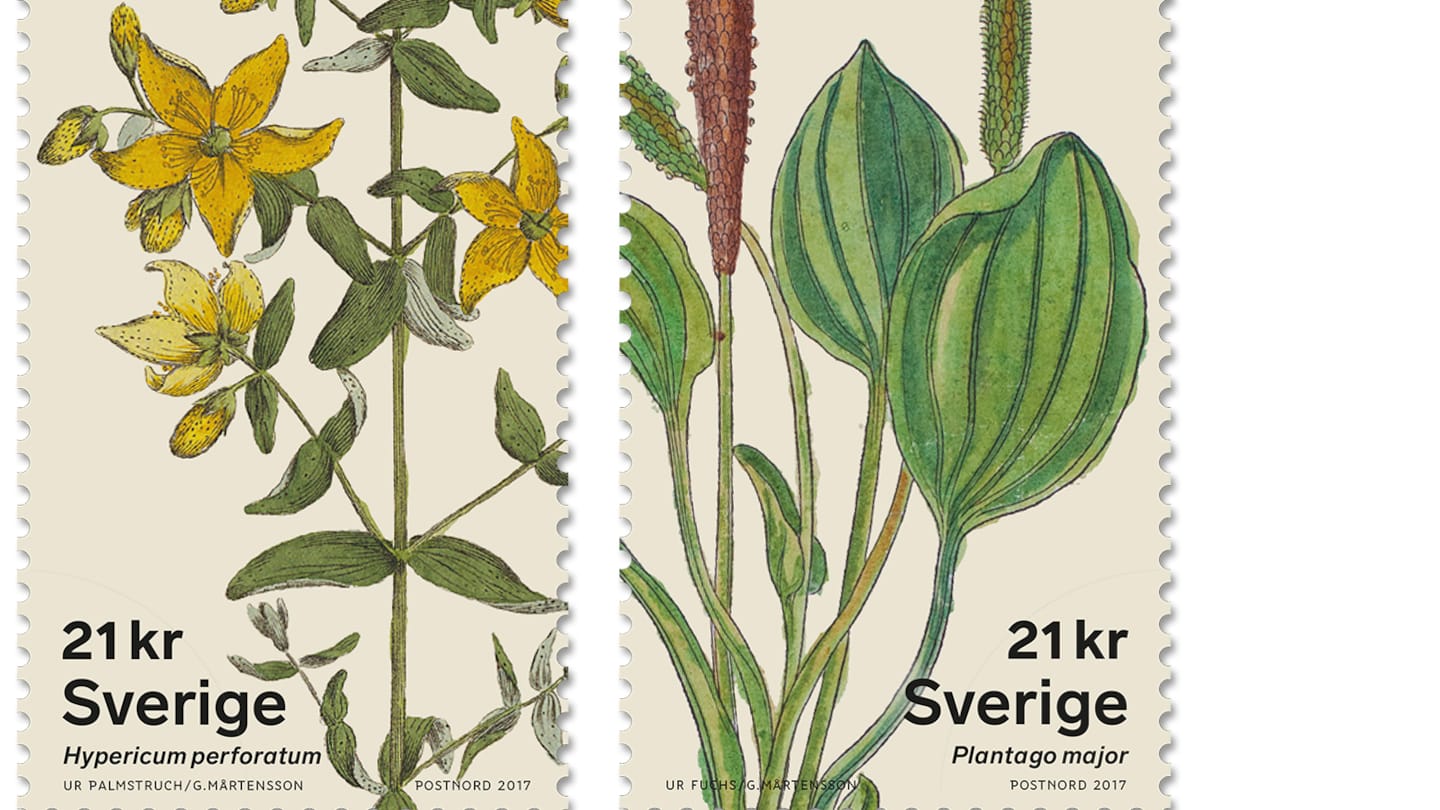 Medicinal Plants
Minisheet: 3 stamps. 3 motifs. SEK 21.
Medicinal plants in the Hagströmer Library
Medicinal plants are plants that are used as medicine or from which medicine is extracted. The motifs on the minisheet are taken from the Hagströmer Medico-Historical Library, which turns 20 in 2017. Here, in the old Haga courthouse in Solna, the old and rare book collections from Karolinska Institutet and the Swedish Society of Medicine have been gathered under one roof.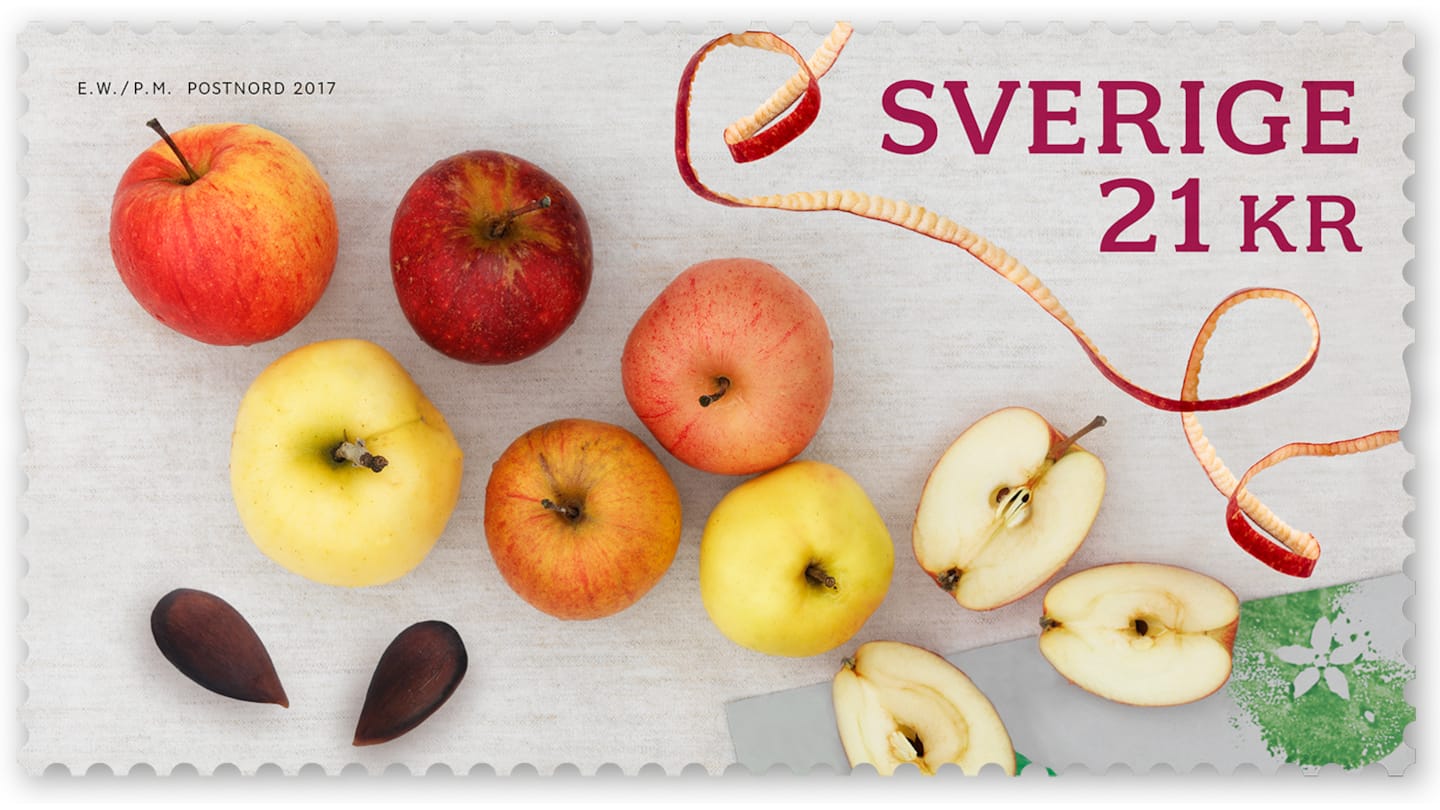 Apples
Booklet: 10 stamps. 5 motifs. SEK 21.
Coil: 100/coil. 1 motif. SEK 5.
Harvest Time
Apples are a popular fruit in Sweden and one of the most cultivated types of fruit trees. Arguably one of the best things about the fall is the apple harvest; picking the fruit that was grown during the spring and summer. An apple a day keeps the doctor away, as the saying goes. Wonderful apples for applesauce, apple cider, apple pie and now even apple stamps. Decorate your fall greetings with healthy, delicious and beautiful apples.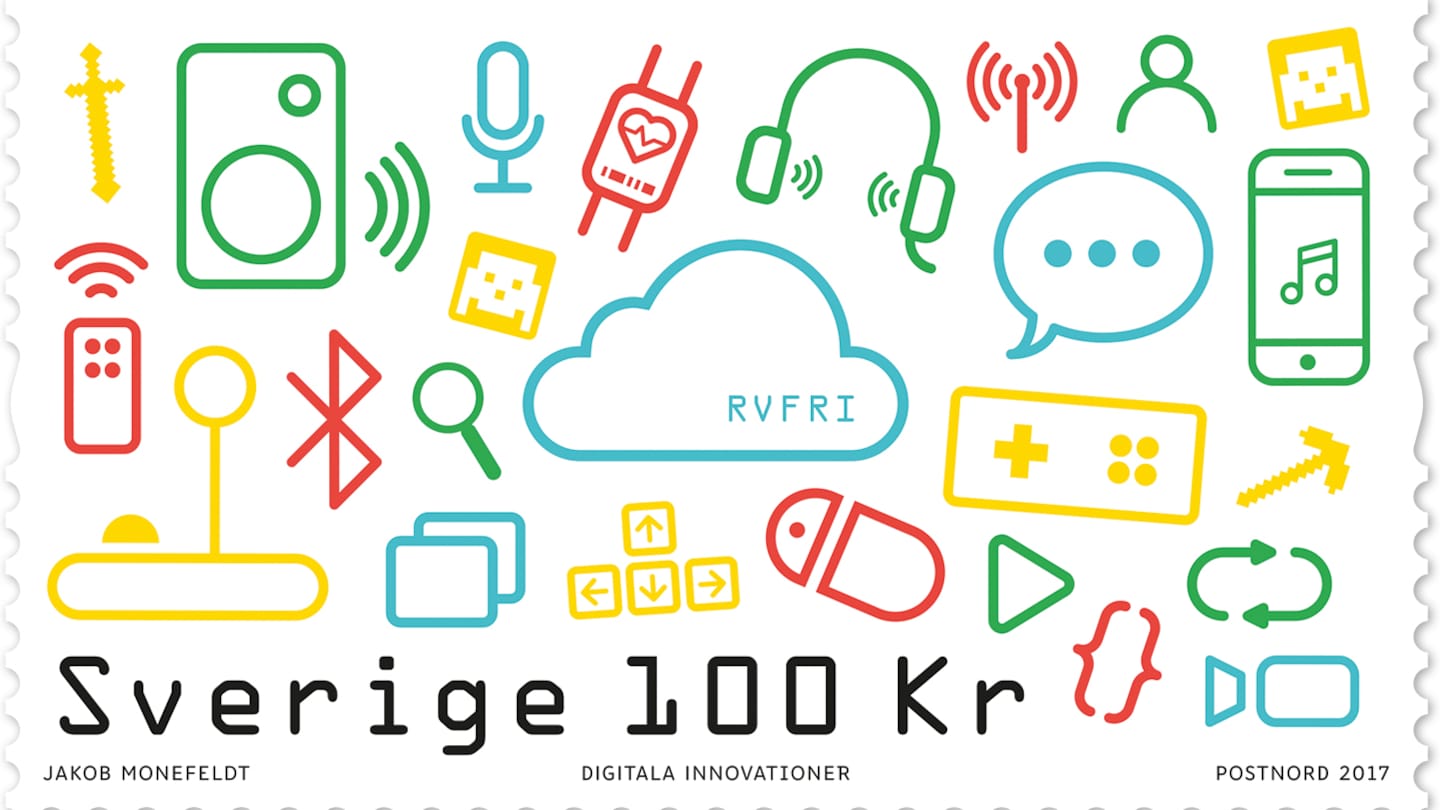 Digital innovations
Coil: 1 stamp, 50/coil. 1 motif. SEK 100.
Digital innovations for distance selling
Distance selling is growing, as is the number of stamp denominations. Sweden is one of the world's hottest markets for e-commerce. Another area that has begun to see more global dominance from Swedish businesses is digital innovation. This is the theme for the new SEK 100 stamp. Several digital communication solutions as well as a long list of world-class games have been launched.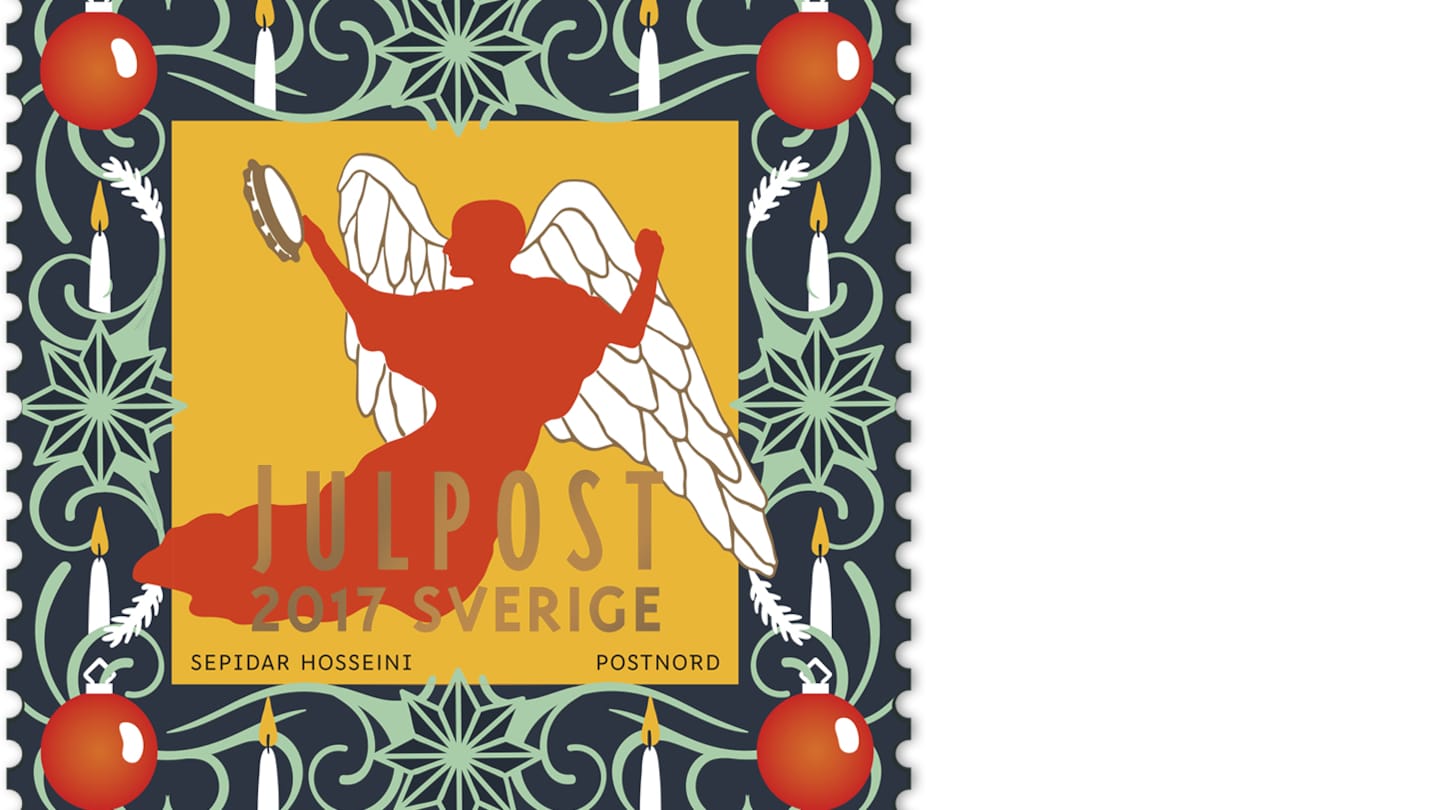 Christmas – Angels
Booklet: 10 stamps. 5 motifs. Christmas letters.
Coil: 100/coil. 1 motif. Domestic letters.
By angel wings
This year's Christmas greetings will be carried by angel wings. Christmas cards hold a unique position as the most popular way to send Christmas greetings, and eight out of ten Swedes would like to receive Christmas cards through the mail. A handwritten greeting in the mailbox franked with a seasonal Christmas stamp is greatly appreciated because it shows how much the sender cares. For many, the Christmas holidays truly begin when the first Christmas cards arrive.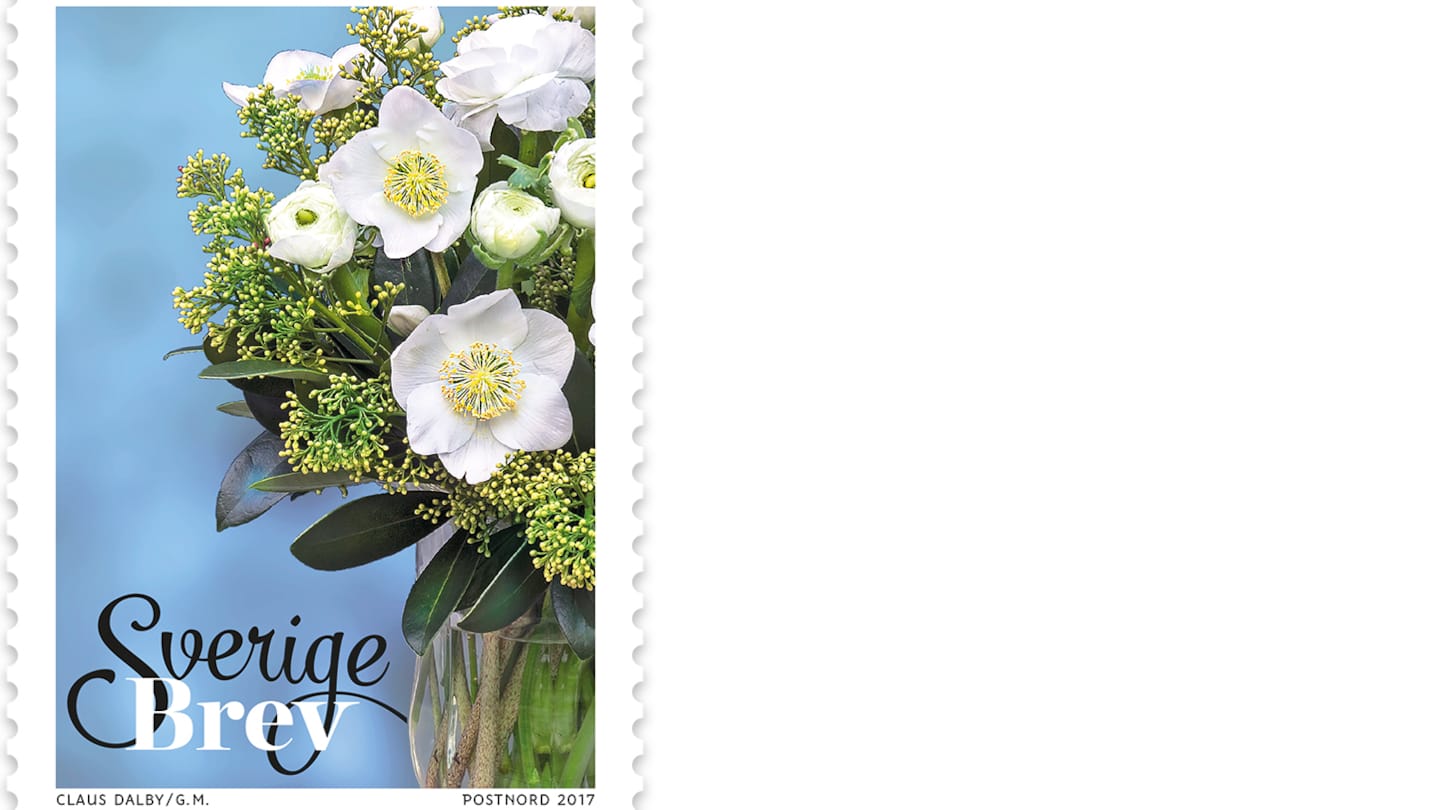 Winter Flowers
Booklet: 10 stamps. 5 motifs. Domestic letters.
The most popular motif
You most likely already knew that flowers are the most popular motif on stamps. So why not send greetings with flowers even in the winter? As the darkness and cold temperatures descend upon us, we are issuing stamps depicting winter flowers. Brighten up someone's winter darkness - send a handwritten letter. It is like sending a small present. It makes people happy, and they will want to open it right away, just like when receiving a wrapped present. Don't you agree?