The Stamp Year 2016
Welcome to yet another Stamp Year, and to new motives that inspire both to writing and collecting.
2016 offer animals, nature and environment, food culture, anniversaries and much more. Simply something for all needs and tastes.
January 14
Swedish Museum of Natural History Centennial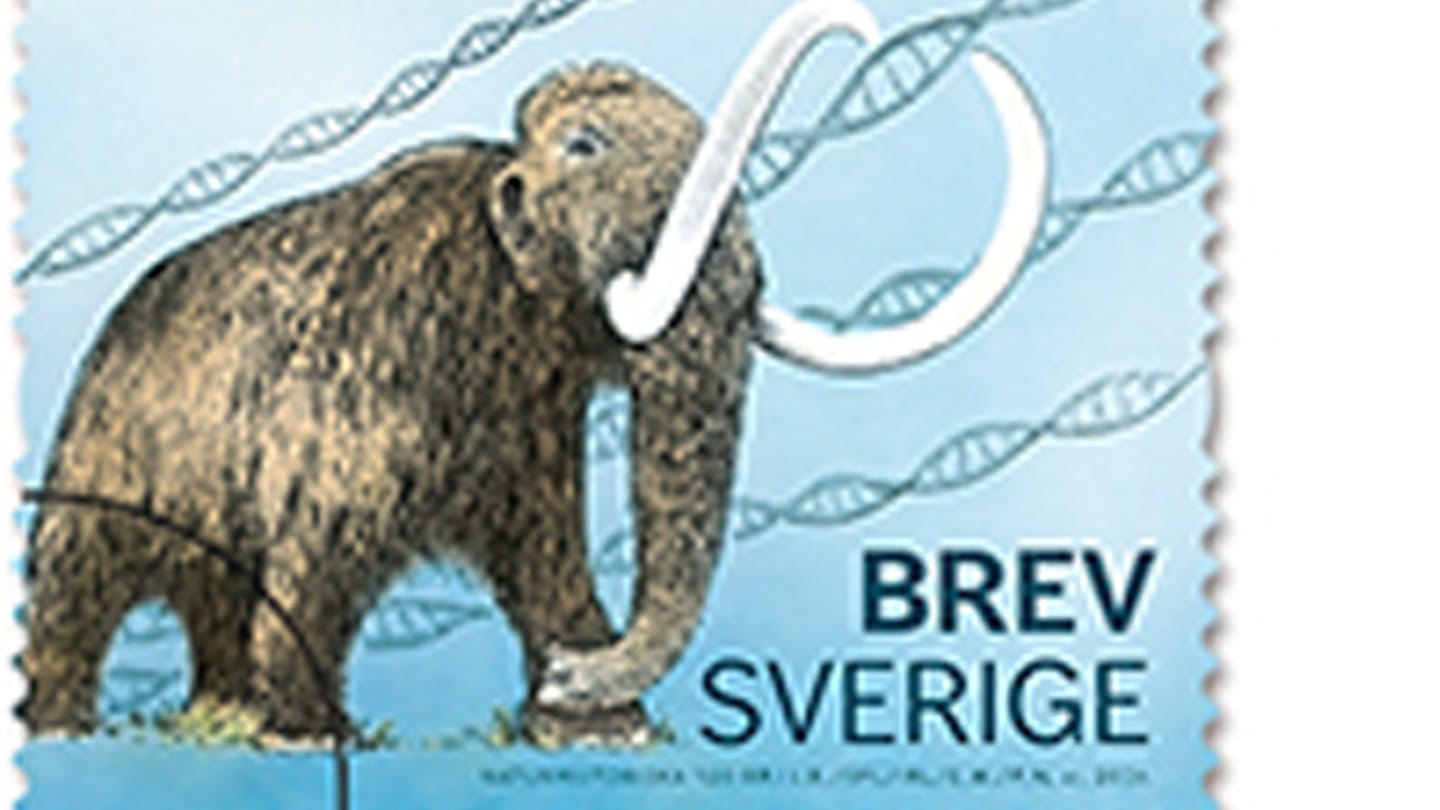 This year marks the centennial of the Swedish Museum of Natural History, sometimes called the Palace of Nature. The museum with several buildings was erected in 1907–1916 and contains the results of men's and women's thirst for knowledge through the centuries. The Museum of Natural History is the largest museum in Sweden and contains over ten million fossils, animals, plants and fungi.
Booklet: 10 stamps. 5 motifs. Domestic letter.
Europa 2016 – Think Green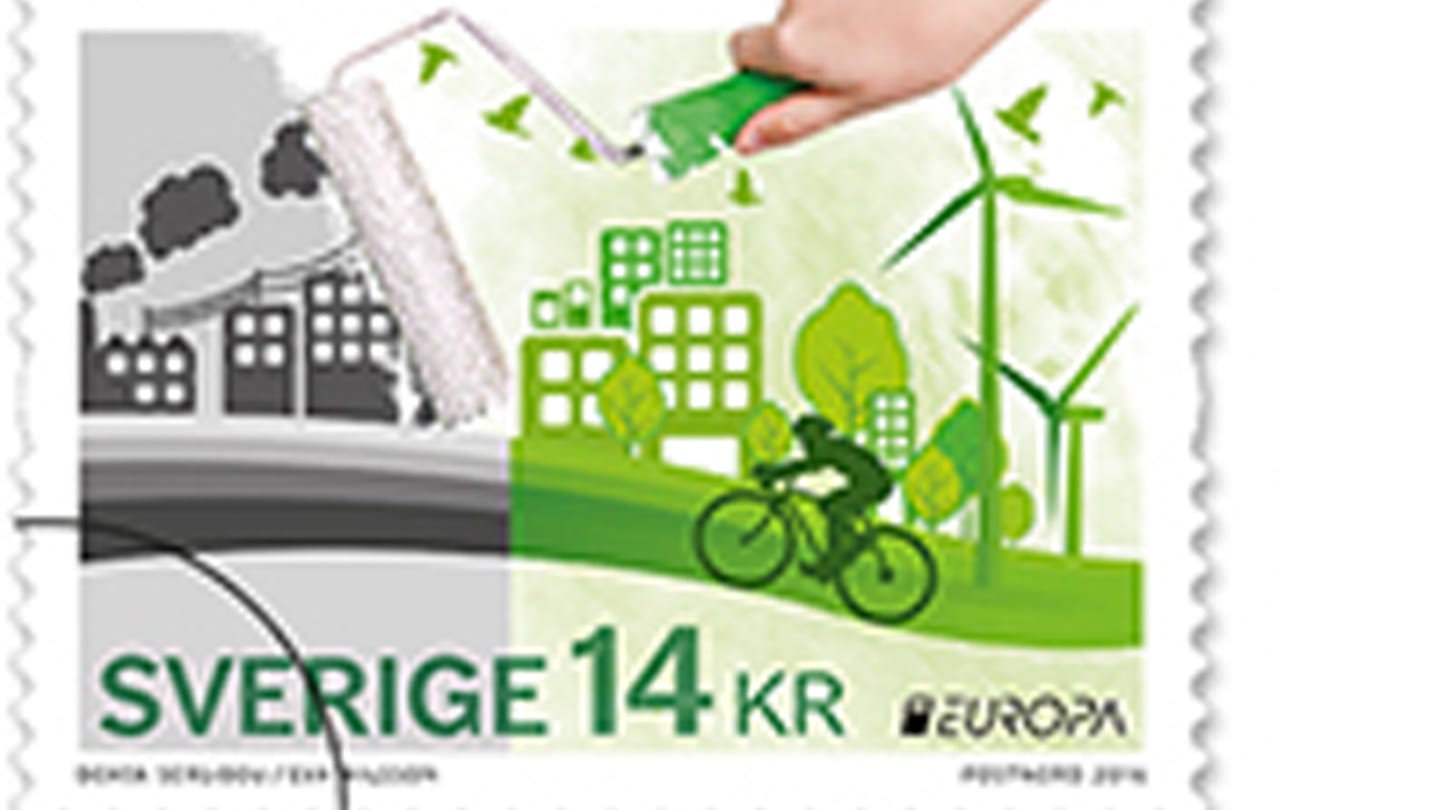 Each year the members of PostEurop issue EUROPA-stamps on a common theme. One new twist is that all stamp issuers in the PostEurop area are using the same motif. This year's theme is the environment. PostNord works actively to take environmental and sustainability responsibilities seriously and have set clear, measurable goals. Among other things, we will reduce our carbon emissions by 40 percent in eleven years.
Coil: 100 stamps. 1 motif. SEK 14.
White-tailed Eagle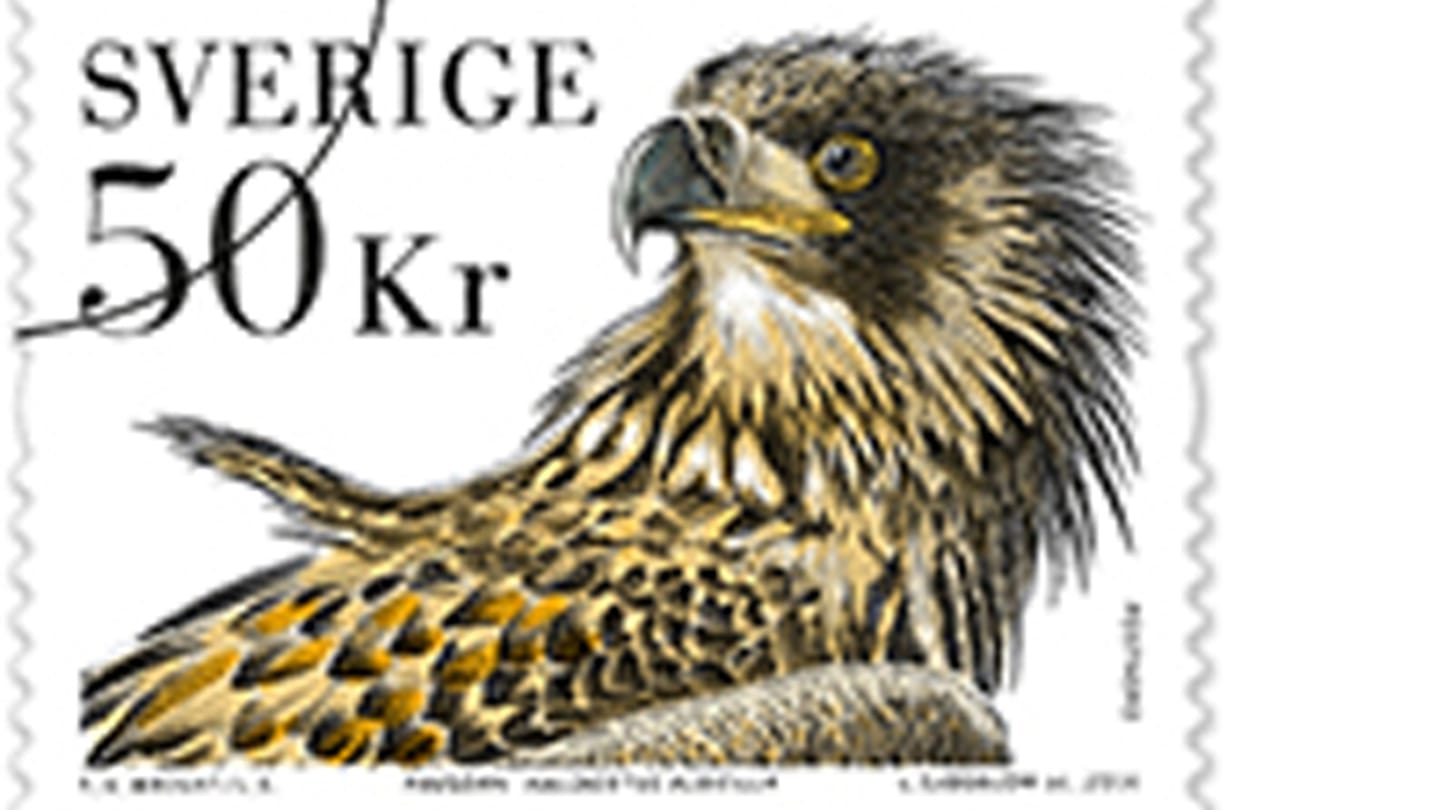 We send increasing numbers of heavy items as the online shopping continues to grow. Hence the need for stamps with higher denomination. The stamp White-tailed Eagle with denomination SEK 50 is a part of the requested theme of birds. More stamps depicting birds will be issued in August. The White-tailed Eagle stamp was designed and engraved by Lars Sjööblom after a painting from the mid 19th century by Ferdinand von Wright.
Coil: 100 stamps. 1 motif. SEK 50.
March 17
Royal jubilees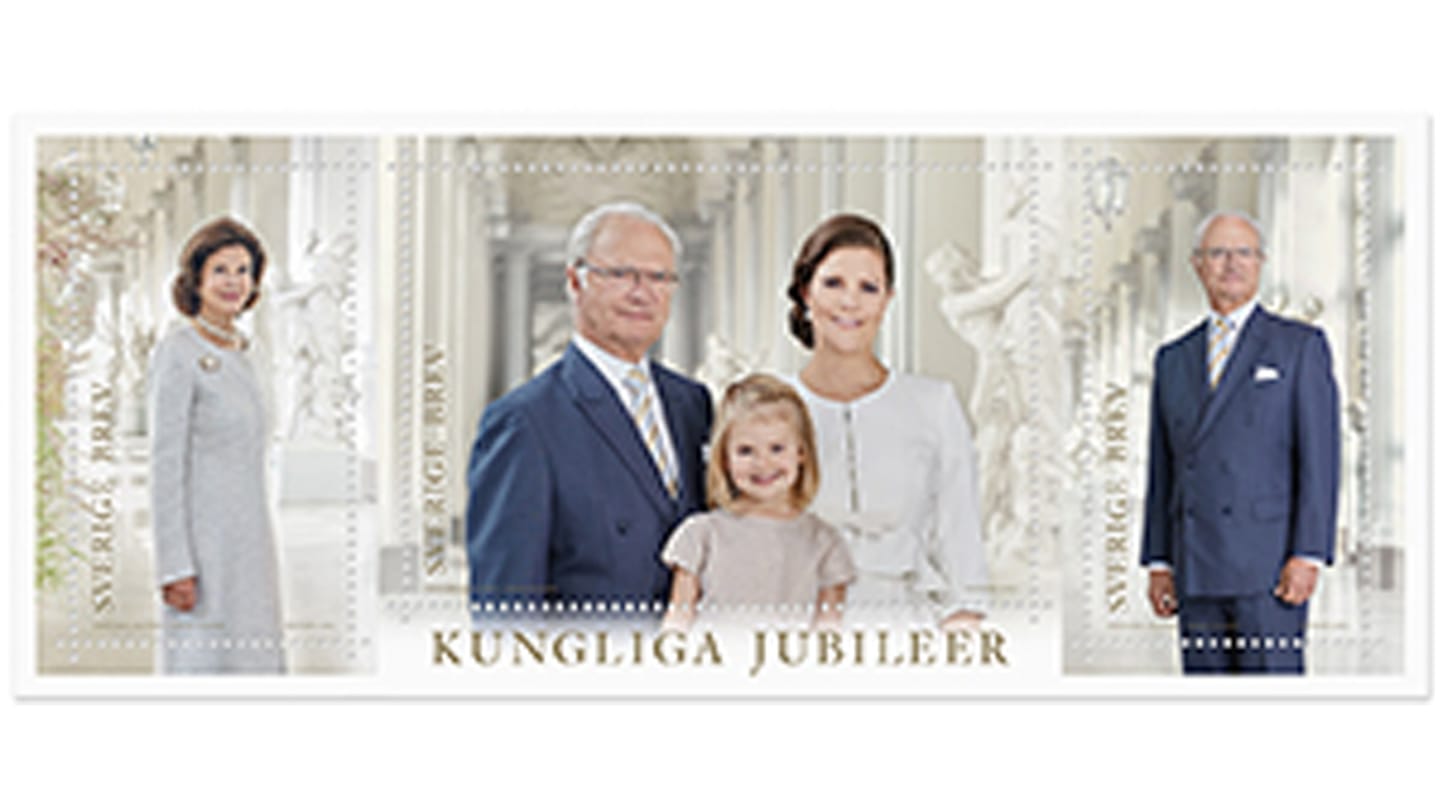 Two anniversaries 2016
Carl XVI Gustaf was born April 30, 1946 at Haga Palace. When his father Prince Gustaf Adolf died in a plane crash in 1947 Carl Gustaf moved up a step in the succession. On September 15, 1973 Gustav VI Adolf died and was succeeded by his grandson, Carl XVI Gustaf. The wedding with Silvia Sommerlath took place June 19, 1976, and this year both the King's 70th birthday and Silvias 40 years as queen are celebrated.
: 3 stamps. 3 motifs. Domestic letter.
Bridges
Architectural and technical challenges
The five bridges on the stamps represent several different eras, building techniques and architectural design. Before iron, steel and concrete began to dominate as building material, bridges were built in stone and wood. The builders were forced to resort to large margins to ensure the strength of the construction, but with today's advanced software it becomes possible to design more precise and slender solutions.
Booklet: 10 stamps. 5 motifs. Domestic letter.
Food in Sweden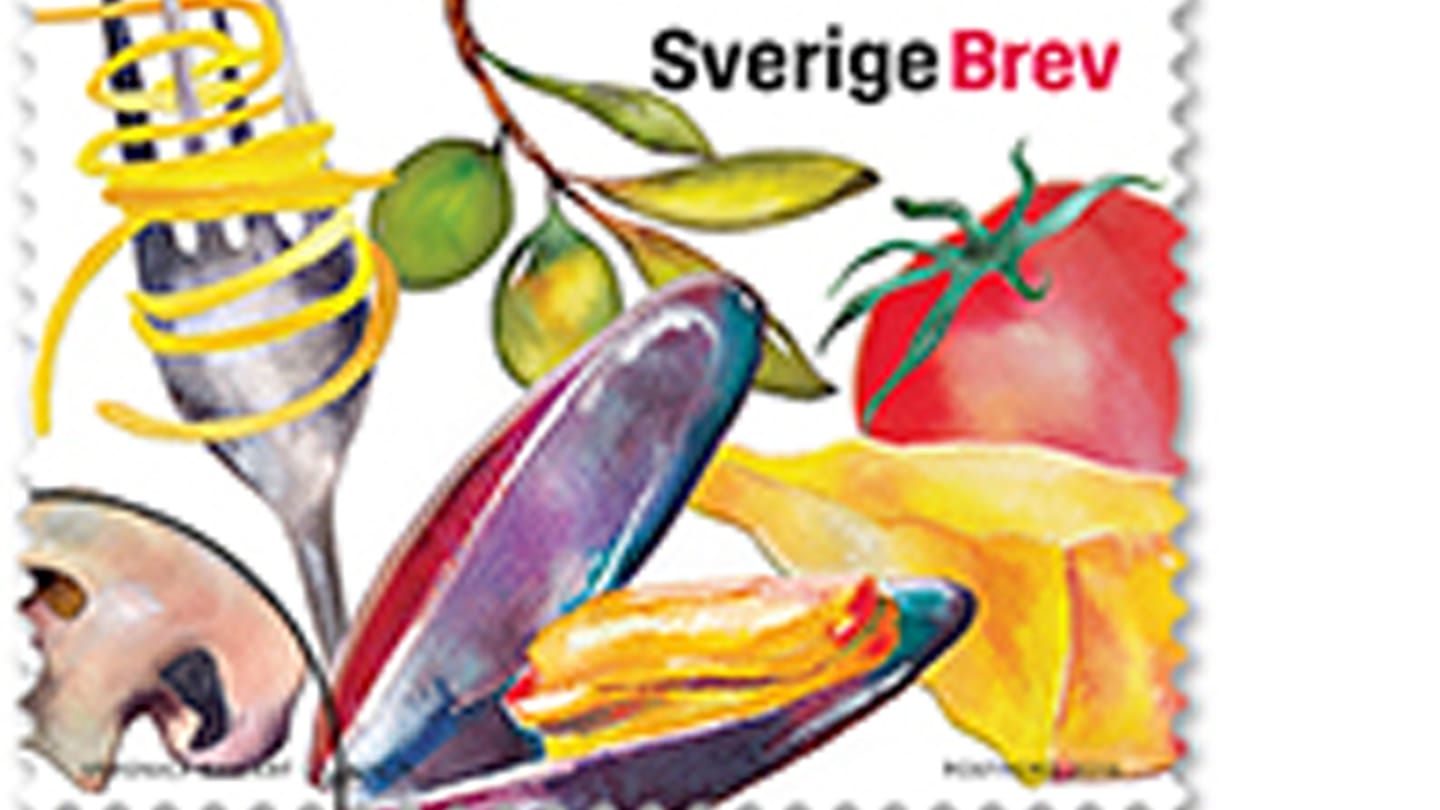 Nordic food culture
The stamp advisory committee have received many suggestions for foods as stamp motif. These stamps tell us that our cuisine is a result of the influence of food expression from other cultures. Did you know that you can go to postnord.se if you have suggestions for a stamp motif?
Booklet: 10 stamps. 5 motifs, Domestic letter.
Coil: 100 pcs/coil 1 motif. SEK 13.
May 4
Old Town
In the Old Town, one of Europe's largest and best preserved medieval city centers, Stockholm was founded in 1252. With its narrow cobblestone streets, teeming with restaurants, museums, souvenirs and handicraft, it is the obvious destination for many of Stockholm's tourists. From May, you can send this popular tourist destination as motive for international letters and greetings.
Booklet: 5 stamps. 5 motifs. SEK 13.
Pride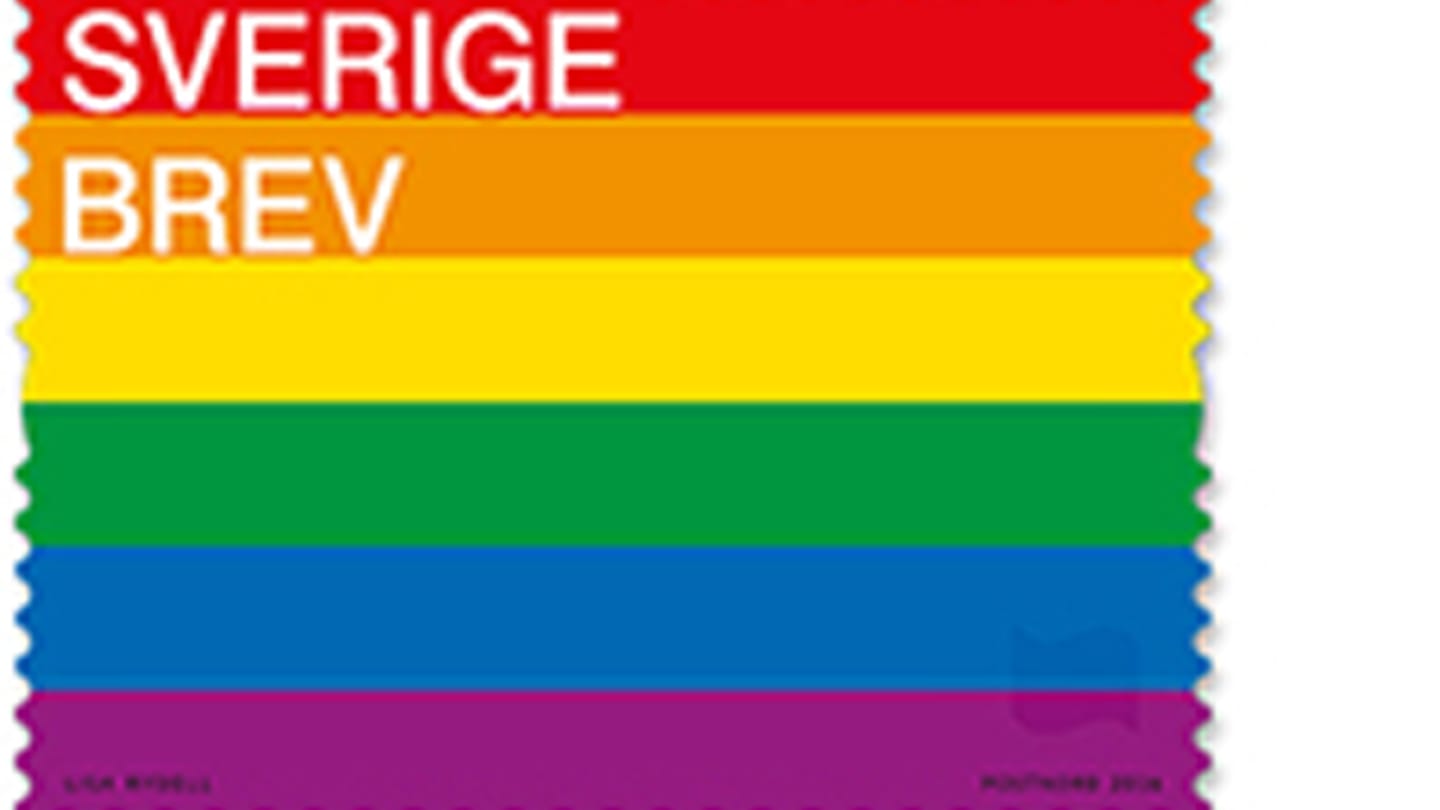 A stamp for diversity
All PostNord's stamp motifs are reflections of today's Sweden. The new stamp with the Pride colors is a symbol of everybody's equal value - the strength in people's unique characteristics and differences. The Pride stamp suits everyone, both businesses and individuals who want to strengthen their letters with a little extra care.
Coil: 100 pcs/coil. 1 motif. Domestic letter.
Beach life
Life on the beach
Life on the beach is a holiday dream, the typical summer destination, away from stress and musts. Pack the cooler bag and take your picnic, swim wear, perhaps a book you haven't had time to read, sun hat, mask and snorkel or whatever suits you best. Send that dream vacation in this summer's greetings.
Booklet: 10 stamps. 5 motifs. Domestic letter.
Coil: 100 pcs/coil. 1 motif. Domestic letter.
Coil: 100 pcs/coil. 1 motif. Economy Mail.
August 25
King Carl Gustaf and Queen Silvia 2016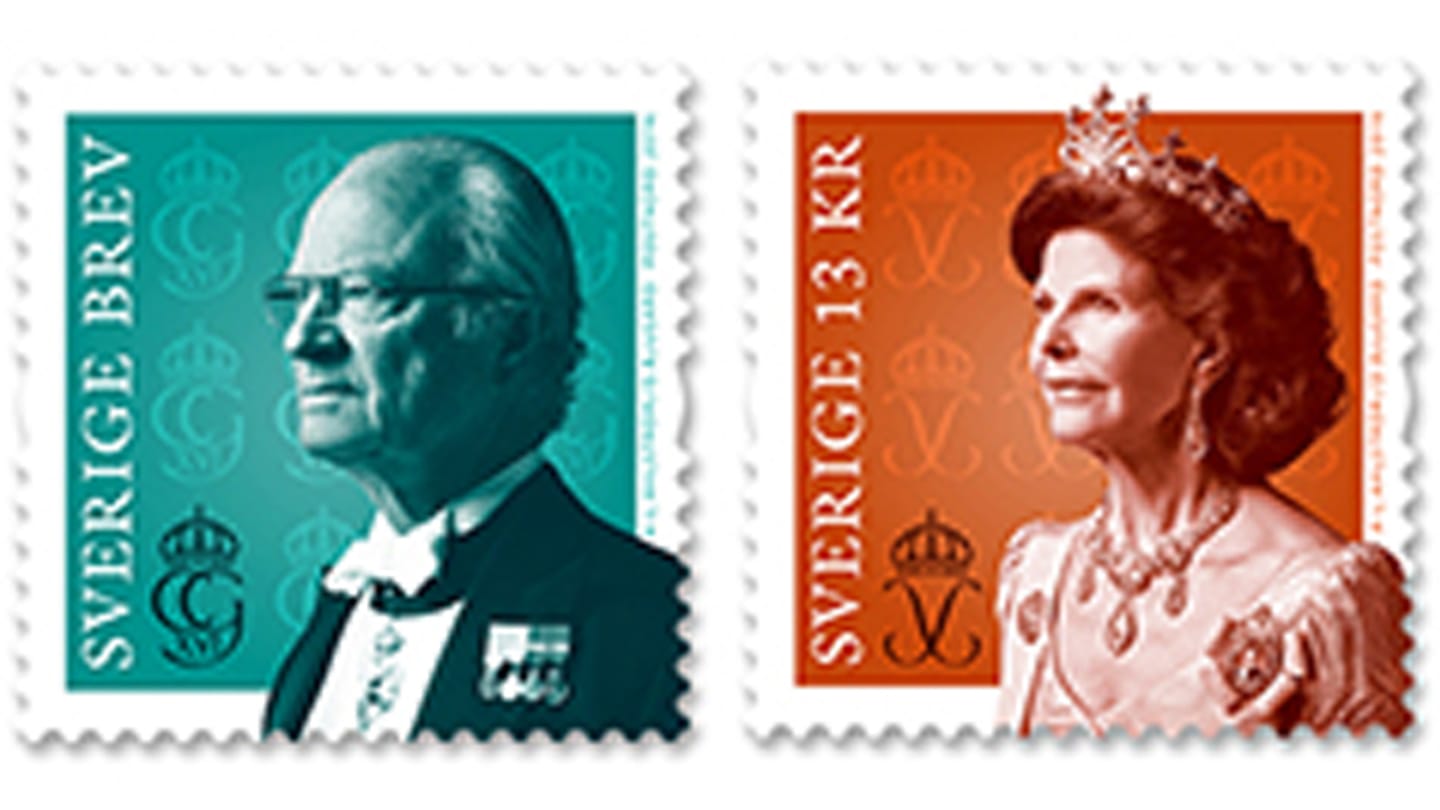 The stamps are now being issued with new colors. The colors were selected already before the stamps were first issued in 2015. They were inspired by the first series of stamps depicting King Carl Gustaf, 1974, and re-issued in different colors.
Coil: 100 pcs/coil. 1 motif. Domestic letter.
Coil: 100 pcs/coil. 1 motif. SEK 13.
Birds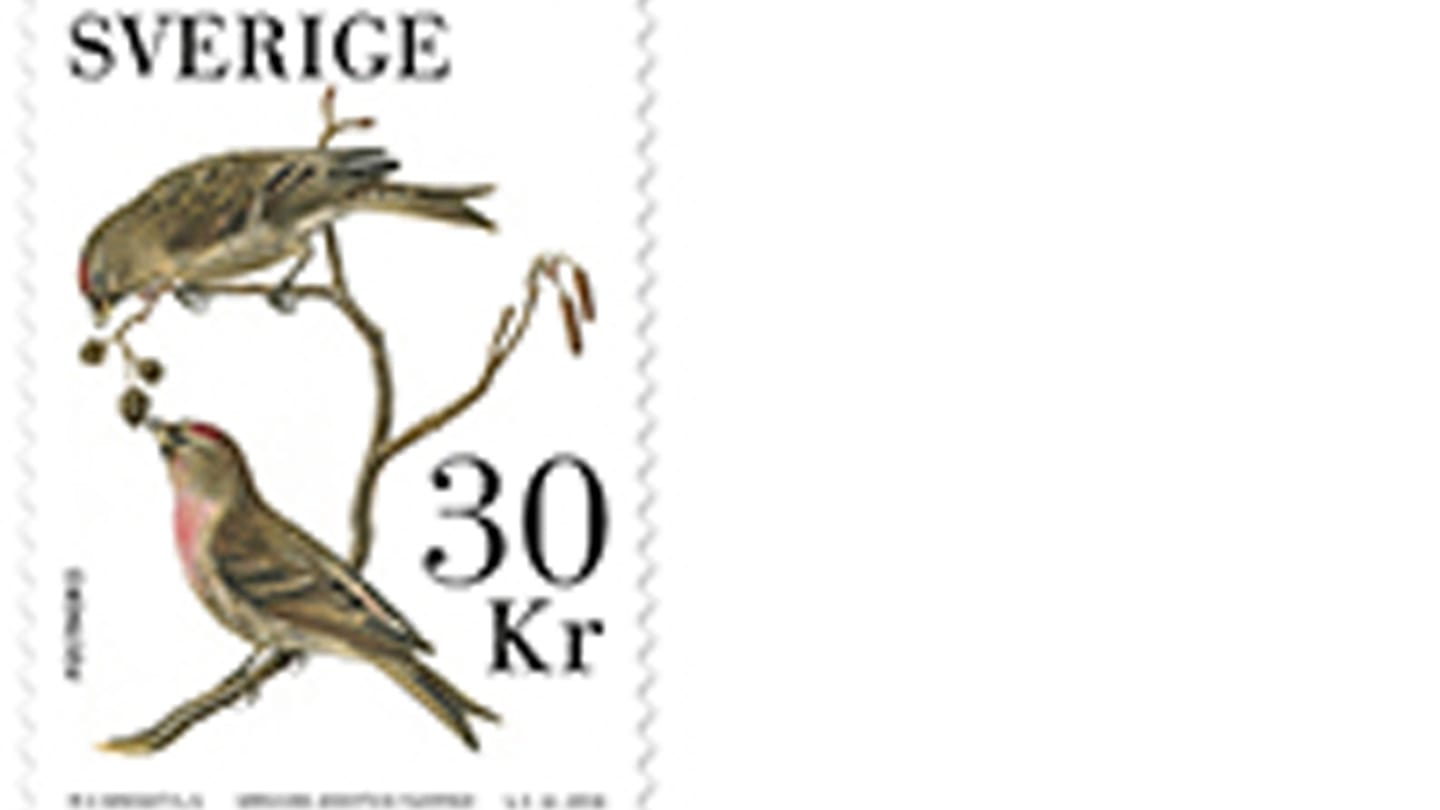 Gråsiska och Härfågel
E-commerce in Sweden continues to expand. PostNord as a supplier has a strong position within e-commerce, and satisfies the need for sending parcels by providing stamps with appropriate denominations. The theme is birds, and the motifs redpoll and hoopoe.
Coil: 100 pcs/coil. 1 motif. 30 kr.
Coil: 100 pcs/coil. 1 motif. 40 kr.
Autumn Glow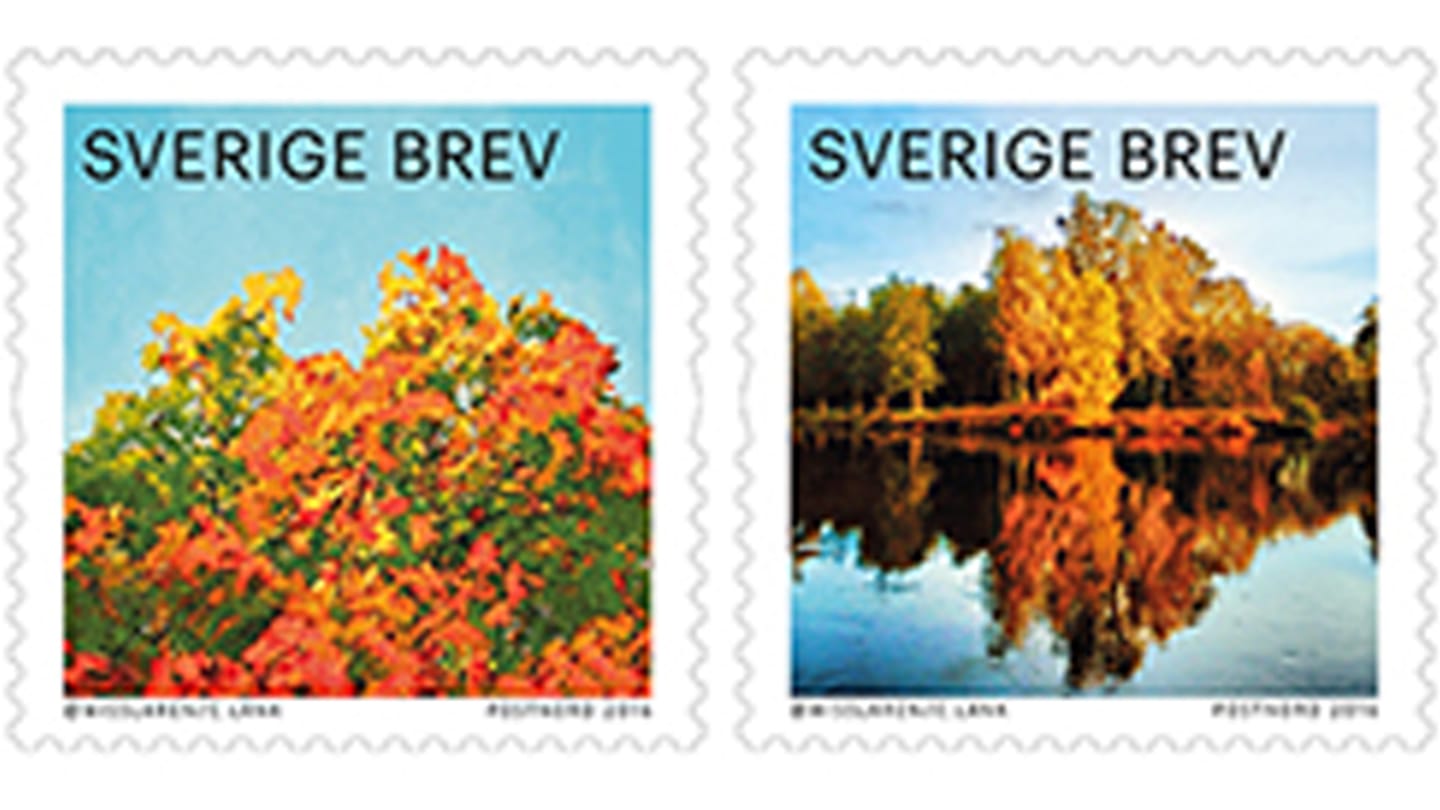 "The stamp in the digital world" is the headline for these stamps. The motifs are photographs of Christoffer Collin, Instagram-profile @wisslaren with 1.4 million followers. PostNord started @svenskafrimarken 2014 and the number of followers is growing.
Booklet: 10 stamps. 5 motifs. Domestic letter.
Coil: 100 pcs/coil. 1 motif. Domestic letter.
November 10
Christmas Gnomes
Christmas Gnomes keep busy
This year's Christmas stamps are dedicated to the Christmas Gnome himself. Harald Wiberg's classic illustrations show the good-natured Christmas Gnome who takes care of all the animals. In the same way, we hope that he will help PostNord ensure that all Christmas greetings and packages arrive to the right person at the right time.
Booklet: 10 stamps. 5 motifs. Christmas letter.
Coil: 100 pcs/coil. 1 motif. Domestic letter.
Northern lights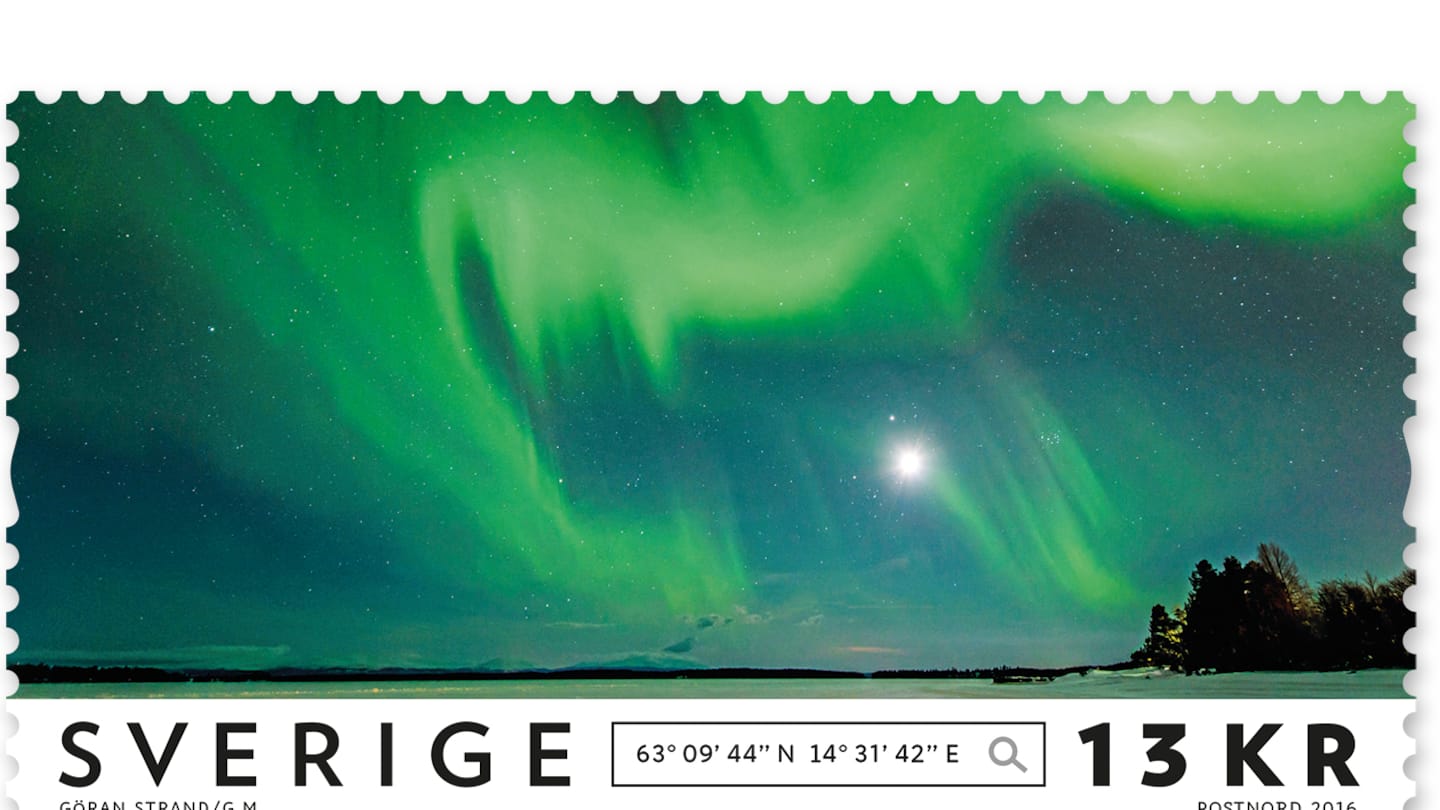 Colorful draperies in the sky
The Northern Lights is a natural phenomenon that is hard to explain for someone who is not an expert, but so much easier to admire. Most often seen in the far north, but in rare cases, like in autumn 2015, it has been possible to see the northern lights much further south in Sweden. Northern lights are the subject of this winter's international greetings.

Booklet: 10 stamps. 5 motifs. SEK 13
Deer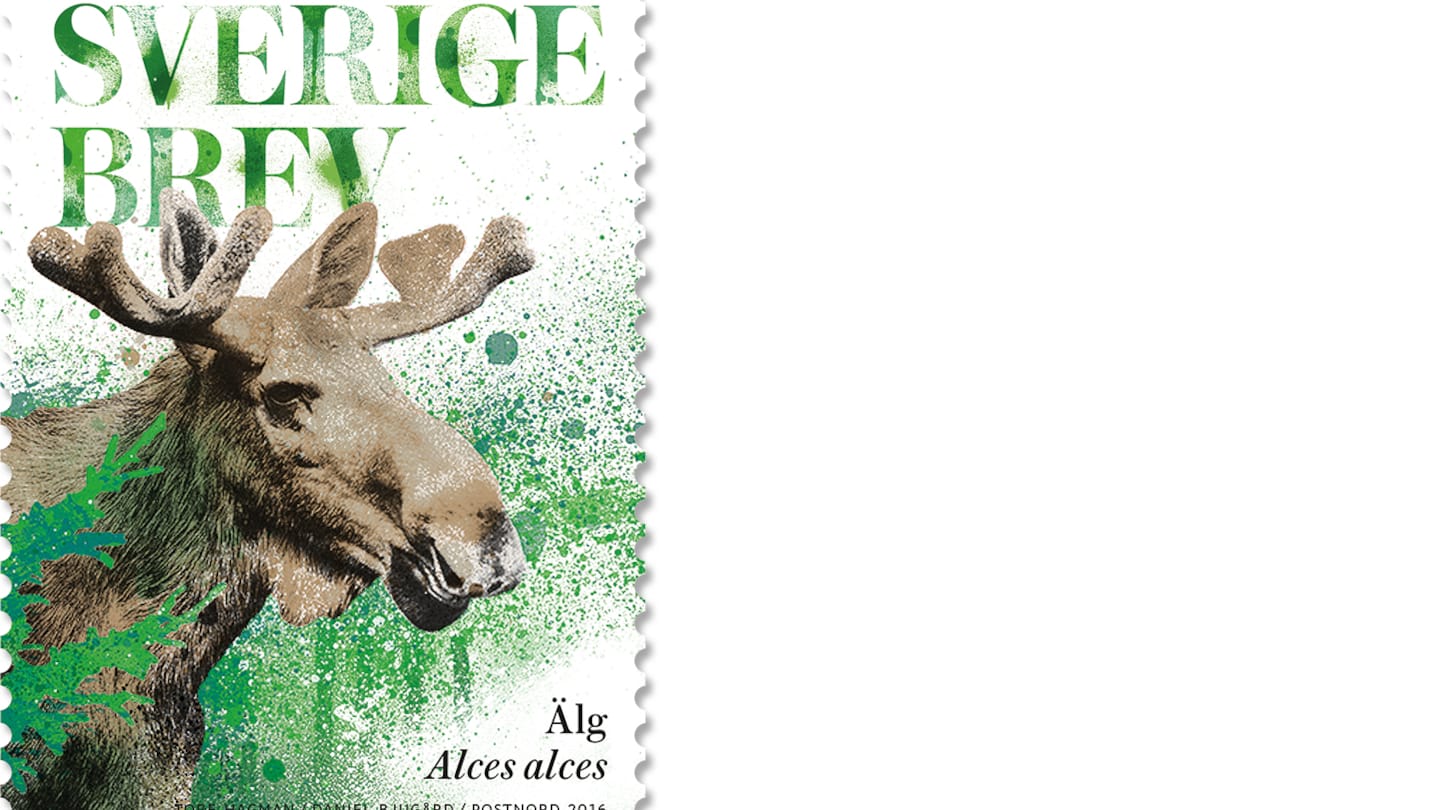 Deer will decorate the domestic stamps this winter. Deer are herbivores and feed on leaves, shoots, twigs, flowers, fruits and sometimes grass. In most deer species males and females live separated most of the year, females often in small flocks of closely related individuals. They usually get one or two calves each year. In Sweden there are five different deer species: fallow deer, red deer, reindeer, deer and elk.

Booklet: 10 stamps. 5 motifs. Domestic letter.
Lund University 350 years
World-leading research
On December 19th 1666 Karl XI's regency decided on founding Lund University, and thus starting December 19 this year the university celebrates 350th anniversary. It has 42,000 students and over 7,500 employees in Lund, Malmö and Helsingborg. All are united in a quest to understand, explain and improve our world and human conditions. For several years, Lund University has ranked high globally and in several research areas they are world-leading.

Minisheet: 2 stamps. 2 motifs. SEK 13.